Pruvit sued for use of petrochemical derived flavoring

A June 5th class-action lawsuit filed in California alleges Pruvit uses a flavoring derived from petrochemicals.
This is a problem because Pruvit claims its products contain "no artificial flavors".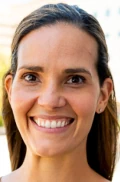 Plaintiff Deana Lozano (right) cites herself as a "health care administrator and amateur athlete … (who) consumes only natural ingredients and avoids artificial flavors and ingredients".
Lozano claims she bought a pouch of Keto//OS Nat from Pruvit's website on April 4th, 2023.
The front label (or "principal display panel") of the Products (both the box and the individually wrapped items contained therein) prominently state they contain "No Artificial Flavors".

These natural flavoring claims are false. The Products are flavored using an artificial flavoring, DL malic acid, that is derived from petrochemicals.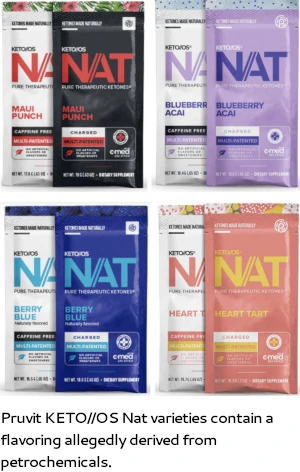 Specific flavors of Keto//OS Nat Lozano cites as containing DL malic acid are Maui Punch, Heart Tart, Blueberry Acai, Hibiscus Lemonade and Berry Blue.
While there is an "extremely expensive" naturally occuring form of malic acid, Lozano claims results from a third-party laboratory confirmed Pruvit's malic acid was synthetic.
This type of malic acid is manufactured in petrochemical plants from benzene or butane—components of gasoline and lighter fluid, respectively—through a series of chemical reactions, some of which involve highly toxic chemical precursors and byproducts.
Summing up her lawsuit, Lozano states Pruvit
uses the petrochemical-derived DL malic acid in its Products to create a sweet and tart flavor but pretends otherwise, conflating natural and artificial flavorings, misbranding the Products and deceiving consumers.
Lozano alleges Pruvit's inaccurate labelling constitutes a violation of the Food, Drug and Cosmetic Act.
California's Sherman Food, Drug, and Cosmetic Law, Cal. Health & Saf. Code §109875, et seq., incorporates all food flavoring and additive regulations of the FDCA.
Pruvit and parent company LaCore Enterprises are based out of Texas.
Lozano "seeks to represent Class members" who have also purchased Pruvit products containing DL malic acid.
All Class members suffered similar economic injury due to Defendant's misrepresentations; and Plaintiff seeks the same relief as the Class members.
Across eight counts, Lozano has sued Pruvit for
violating the Texas Deceptive Trade Practices Act
violating the California Business & Professions Code (unfair, fraudulent and unlawful conduct)
violating the California Consumer Legal Remedies Act
unjust enrichment and
breach of express warranty
An injunction, damages and disgorgement or restitution are being sought.
Following a waiver of service on June 12th, Pruvit have until August 7th to file a response.
This isn't the first time Pruvit has run into problems with its ingredients in California.
Back in 2020 Environmental Research Center, a non-profit corporation, sued Pruvit over use of lead in its products.
The case was resolved via a $400,000 consent judgment reached in December 2021.
A number of LaCore Enterprises companies' products have been found to contain lead, prompting BehindMLM to ask whether LaCore Enterprises had a lead contamination problem earlier this year.
I've added Lozano v. Pruvit Ventures, Inc. to BehindMLM's court calendar. Stay tuned for updates as we continue to track the case.