Nissan allege Kairos Technologies lied about partnership

One of the tactics Ponzi schemes use to promote themselves is "legitimacy by association".
Legitimacy by association typically sees a Ponzi scheme align itself with a reputable brand. The company and its affiliates then pose the question: "If we were a scam, why would company xxx partner with us?"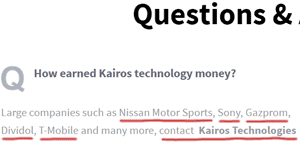 Kairos Technologies has claimed it has partnerships with multiple companies, which has resulted in affiliates making claims like this:
Kairos delivers cloud services to corporations like Bosch, Sony Playstation, Nissan Motors, Hamé etc.
The widespread nature of these claims has now prompted Nissan to issue an official response.
According to Nissan, claims of a partnership by Kairos Technologies and their affiliates are bogus.
In a press-release issued last month, Nissan Turkey claimed that Kairos Technology's Facebook page
suggested Kairos Technology provides services to protect the data of Nissan.

An agreement between the two companies for data protection services and services related to international contracts does not exist.
Why multi-billion dollar companies would use a small Ponzi scheme to protect their data is beyond me, but it's what Kairos Technologies and their affiliates claim when they promote the scheme.
For their part Kairos Technologies sent out an email in late 2015 advising:
Participants of Kairos affiliate marketing program should not present information about corporate clients, but they do it due to misunderstanding and we are working on correction of this situation.
The company didn't however reveal that it had made the claims up, instead choosing to maintain the illusion that Kairos actually has corporate clients.
Without unequivocal proof, it's probably best to take any claims that Kairos Technologies has partnerships with any third-parties as bunkum.