Join2World Review: No product, no fees, no idea.

There is no information on the Join2World website indicating who owns or runs the business.
The Join2World website domain ("join2world.com") was registered on the 19th of April 2013, however the domain appears to be registered to the web hosting provider rather than Join2World owner.
The web hosting provider is based out of Slovakia (Europe), possibly indicating where the owner(s) of Join2World might be located.
As always, if an MLM company is not openly upfront about who is running or owns it, think long and hard about joining and/or handing over any money.
The Join2World Product Line
Join2World has no retailable products or services. Infact, at the time of publication of this review the company has no products or services available at all.
Join2World expect that their product 'will be launched in the summer 2013′ and indicate on their website that it's going to be some sort of hosted blogging platform.
Presumably access to this platform will be bundled with Join2World affiliate membership.
The Join2World Compensation Plan
The Join2World compensation plan revolves around the recruitment of new affiliates and their continued payment of monthly membership fees.
Join2World pay out commissions to affiliates two-fold, using both a 2×12 matrix and 5 level unilevel compensation structure.
Matrix Commissions
Matrix commissions in Join2World are paid out using a 2×12 matrix. This matrix places an affiliate at the top with two legs branching out under them (level 1). In turn, these two legs branch out into another two legs each (level 2) and so on and so forth down 12 levels: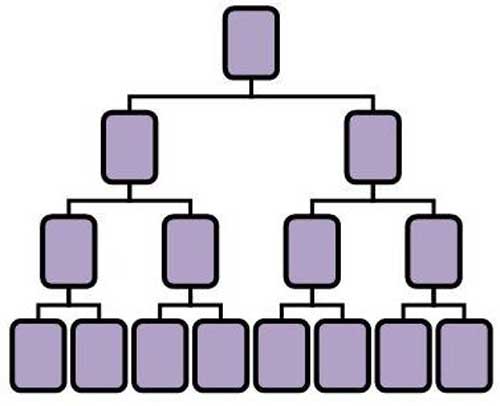 Each positions represents a recruited affiliate paying a monthly membership fee, with positions filled either via direct recruitment or the recruiting efforts of an affiliates up and downlines.
Commissions are paid monthly on the 16380 positions available in their 2×12 matrix, with 50 cents being paid out for each fee paying affiliate present in a matrix.
Unilevel Commissions
Recruitment commissions are paid down five levels in Join2World using a unilevel compensation structure.
A unilevel compensation structure places an affiliate at the top of the structure, with every personally recruited affiliate placed directly under them (level 1).

If any of these level 1 affiliates go on to recruit new affiliates of their own, they are placed in level 2 of the unilevel. If any level 2 affiliates recruit new affiliates they are placed on level 3 and so on and so forth down five levels of recruitment.
Using the above structure, Join2World pay out a 50 cent commission on each recruited affiliate added to an affiliate's unilevel team.
Whether this is an ongoing monthly commission or a once-off payment per newly recruited affiliate added is unclear.
Joining Join2World
At the time of publication of this review affiliate membership costs were not disclosed on the Join2World website.
Conclusion
What is my work for now?

You should sign up as many people as you can.
I'm not entirely sure why Join2World have put up a website accepting affiliate registrations as they don't seem to be entirely finished fleshing out whatever the concept is going to be behind the business.
Affiliate costs don't appear to be finalised, portions of the website are incomplete and the Join2World product is obviously not ready to be released yet.
It almost seems as if the owner(s) are hoping to kickstart a recruitment prelaunch without officially calling it a prelaunch. Whether that works for them remains to be seen but in the meantime business model wise, we're looking at a pretty obvious recruitment driven scheme.
You join Join2World, pay your affiliate fee and are directly compensated based on how many members you and your up and downline recruit.
Once the recruitment stops and people stop paying their monthly affiliate fees, the scheme collapses and those at the bottom are left out of pocket.