IM Mastery Academy a daily weekly income replacement?

IM Mastery Academy is being promoted as a daily weekly income replacement.
That's not a 1:1 weekly income replacement, that's the average weekly income earned daily.

Jermaine Kieran (right) is an IM Mastery Academy affiliate from London in the UK.
Kieran pitches himself as "a foreign exchange currency Investor & full time trading mentor".
I trade currency's online 24/5 between Monday & Friday when the forex market is open and make a substantial profits as the market itself makes trillions.
Kieran runs the Meetup group "Making a Income From Online Home Platforms".
On August 11th Kieran plans to host an IM Mastery Academy marketing webinar, centered around High Frequency Trading (HFX).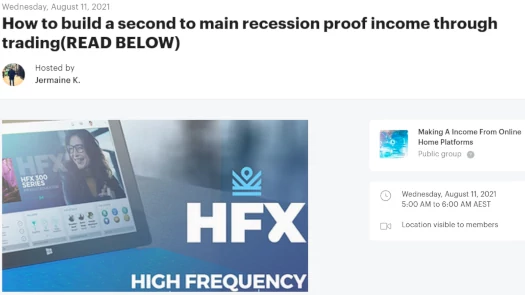 HFX has been part of IM Mastery Academy's offering since iMarkets Live (iMarkets Live changed names after the CFTC sued it for fraud).
According to Kieran's pitch, his prerecorded webinar provides
an overview of the foreign exchange & cryptocurrency market.

Zoom recording will be shown on how to gain a home stream recession proof income using a online educational academy platform which I had first started with and want to help as many people as I can sharing this information.

WHAT IS HFX?

HFX (aka Binary) stands for High Frequency Forex.

It is a fast paced, fast cash market designed for those who want to be in and out of the foreign exchange market (FX) with profits.

This is achieved by setting trades ranging from 1min, 2min, 5min etc.

"Make profits in minutes, not hours!"

Imagine making your weekly salary in a single trade, and doing that each and every day. How would that change your life?
At the time of publication there are 411 attendees marked for Kieran's event.
Alexa currently pegs the US as the top source of traffic to IM Mastery Academy's website.
This is important because the FTC looks down on income claims used to market MLM opportunities.
Jermaine Kieran appears to have joined iMarkets Live on or around August 2019.
Quoting the Office for National Statistics, in March 2021 GQ cited Londoners earning an average of £640 a week.
August 2019 was 105 weeks ago. If we halve that to account for holidays and Kieran not necessarily making a weekly income daily from day one, we get 52.5 weeks.
Rounding that down to 52 weeks we get 260 weekdays. 260 multiplied by the weekly average of £640 comes to £166,400.
Before anyone sits down to listen to Kieran's prerecorded IM Mastery Academy webinar, they should be asking for proof Kieran has earned at least £166,400 through trading related to IM Mastery Academy.
This income would exclude any commissions earned through IM Mastery Academy's compensation plan.
What's the bet Kieran can't provide this evidence?
If he can't, that's throws IM Mastery Academy into a potential violation of the FTC Act. Kieran might not be US based but IM Mastery Academy is.
Furthermore with just under half of its website visitors originating from the US, there's a good chance Kieran is pitching illegal income claims to US consumers.
As a general rule of thumb, if anyone is pitching you IM Mastery Academy on hypothetical trading earnings, ask to see evidence of consistent trading earnings (over at least three months).
Anyone who can't provide this data is just looking to recruit you and earn off collected IM Mastery Academy membership fees.
I suspect this is what Kieran is aiming to do. And if the majority of people paying IM Mastery Academy fees are affiliates, this would constitute a pyramid scheme.
In BehindMLM's December 2019 IM Mastery Academy review, we noted the company didn't have any retail volume qualifiers.
It's entirely possible to sign up as an affiliate and focus only on recruitment of affiliates who purchase packages.

And if this is where the majority of IM Mastery Live's company-wide sales revenue is originating from, the company is operating as a pyramid scheme.

On top of that potential securities fraud has returned, by way of offered algorithms.
In the absence of regulatory action, namely from the FTC and/or CFTC, it seems this is still the case.