Ilgamos Ponzi rebooted with ILGON shitcoin

The scammers behind the Ilgamos Ponzi scheme are rebooting with a new Ponzi shitcoin.
A visit to Ilgon's website reveales Ilgamos isn't mentioned anywhere.
In fact when a reader reached out to me claiming it was a reboot, I pushed back. There wasn't anything to go on other than a similar-sounding name.
Confirmation of ILGON being an Ilgamos reboot came by way of a communication sent out to Ilgamos bagholders.
Ilgamos was a Ponzi scheme launched in mid 2015. OPR Ponzi points and an Ilcoin shitcoin.
You know the deal; sign up, invest, omg moon tomorrow, lose your money etc.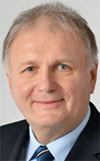 The scam was headed up by CEO Geza Kapitany (right), who at the time had ties to Russia, Germany and the Middle East.
Despite admins and top investors cashing out years prior, Ilgamos was still stringing investors along in 2020.
By this stage OPR had been phased out and Ilcoin dumped on public exchanges.
On or around August 2020 Ilgamos executives began squabbling. This resulted in the Ponzi scheme officially collapsing.
Ilgamos' website is still up and shilling Ilcoin as I write this. Website traffic however is dead and there's nothing going on.
Ilcoin is still publicly tradeable. When Ilgamos collapsed in 2002 Ilcoin had dumped from a high of 13.5 cents to 2 cents. It is now worth half a cent.
Enter Ilgon, headed up by a new cast of executives you've never heard of.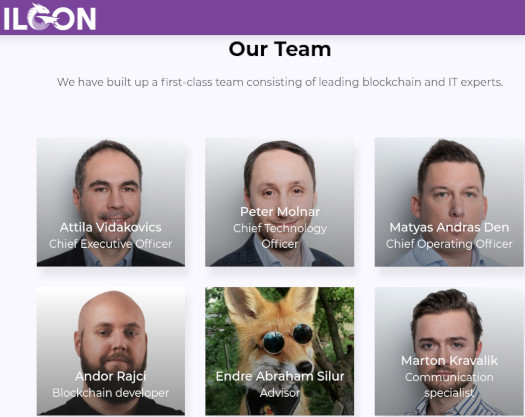 If you're wondering about the fox, Endre Abraham Silur is elsewhere credited as a "hacker".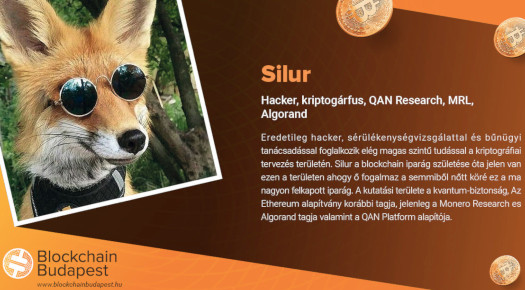 Yeah, I don't know why MLM crypto has to be such a wankfest either.
Geza Kapitany has been replaced by Attila Vidakovics. Outside of the usual blockchain bro projects, Vidakovics doesn't appear to have any executive experience.
Attila is responsible for the vision, coordination, and development of ILGON.

Attila developed the blockchain curriculum for Milton Friedman University.

He founded the Blokktatás (Block-education) non-profit educational group, the Mensa HungarIQa Blockchain Research Group, and the Mensa International (the oldest global high IQ society) Blockchain Research Group.

In 2018, he founded the blockchain consulting and development company Dynamic Laboratories and worked on many experimental blockchain applications (Wedding on Blockchain, StellarFish, Minereon) and crypto-financial solutions.

After working with Ethereum and Stellar for years, Attila and his partner Peter Molnar realised that current networks have to be redesigned to serve both corporate and end-user needs now.

With the arrival of Mátyás, and with the wealth of experience he brings to the project, the concept is coming to life in the present moment as The ILGON Nation-state Ecosystem.
Pater Molnar is cited as Ilgon's Chief Technology Officer.
So where does Ilgamos fit into this?
Ilgon launched on or around January 2021. Sometime thereafter the following communication was sent out to Ilgamos Ilcoin bagholders:
Dear Partner,

If you decided to exchange your ILCoins to ILGONs, please learn more about the possibilities.

Staking and Staking Bonus

Staking is a key feature of ILGON Blockchain ecosystem.

It means that Partners, who ILGOINs from Ilgamos, will have exclusive usage policies and investment rules.

Partners with ILGONs from Ilgamos package purcahses or bonus will get better interest rates, than anyone can get from the market.

Besides this, Partners who purchases ILGONs from exchanges or from other ILGON users, can user their ILGONs for …
So there you have it. Ilgamos bagholders have been preloaded into ILCON.
Now they're expected to market ILGON and bring in new investors to steal from.
Existing bagholders and ILGON's new executives profit. And new ILGON bagholders are created. Sorry for your loss etc. etc.
The footer of Ilgon's website credits "Technokrats".
Technokrats markets itself as a "digital transformation company", but at present it's nothing more than a website with a logo placeholder and address in Budapest, Hungary.
Technokrats differentiates itself from an Indian web design company bearing the same name, by referring to itself as "Technokrats Kft".
ILGON itself is just ethereum with a few tweaks. This is from ILGON's whitepaper;
Due to the shared origins with Ethereum, ILGON is fully compatible with all Ethereum Token Standards.
I went looking to see what Geza Kapitany was up to. He seems to have taken his Ilgamos Ponzi money and disappeared off the face of the Earth.
If Kapitany is involved in ILGON it hasn't been made public.
For now ILGON appears to be solely a shitcoin project. It's up on CoinMarketCap as ILG but is an "untracked listing".
I couldn't find an MLM opportunity attached to ILGON, hence why this is an article and not a review.
If that changes we'll keep you updated.