Millionaire Earner: "Herbalife not based on customer purchases"

In what looks like a hotel conference room, Stephan Gratziani delivers a training presentation to a crowd of a hundred or so Herbalife affiliates.
The Herbalife business model at this point in time is not based on customers purchasing, it's based on distributors purchasing volume.
Several Herbalife executive managers are in the audience, including then Vice-President Mike McKee, Senior Vice-Presidents Rob Levy and Bruce Peters, and Board Member Leslie Stanford.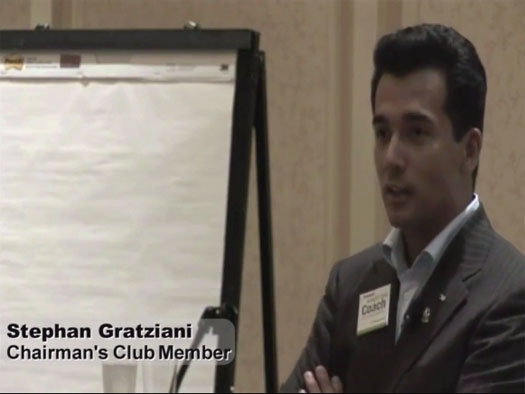 Yet nobody makes a move to interrupt Gratziani. Instead, with Herbalife executives sitting in the audience, he continues…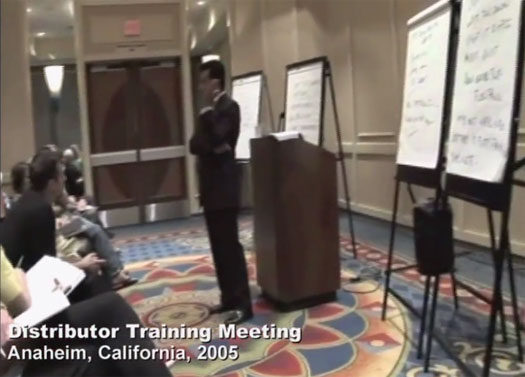 That is the Herbalife business model, that is the way it works.
Gratziani's frank assessment of Herbalife's business model was made during a three-hour long closed-door training presentation. The presentation was given back in 2005, the same year Gratziani made $1.75 million as a Herbalife affiliate.
Needless to say nobody knows better how Gratziani made his money that year. And from the sounds of it, it had nothing to do with the selling of Herbalife products to retail customers.
Other excerpts from Gratziani's presentation are no less damning.
There's some people (who lost money in Herbalife), that if they heard that we were talking like this in a room, I would have to have a bullet-proof vest on right now.

Who wants to bring their family into a struggle to make it. Who wants to bring their family into an eventual deception?

We sell people on a dream of a business, that they can make it. Yet deep-down inside, what do we really know?

Yeah, we know that the reality is that most of them aren't gunna make it.

We tell people, "Hey, sign on the dotted line… start working from home… it's gunna be unbelievable, you're gunna have this incredible life."

Yeah maybe, [acknowledges an answer fromthe audience], maybe a chance to have that kind of result. So there really is this situation, this level of in-authenticity that's there.

We know that literally we lose a very large percentage of our supervisors every single year.

How many of you… you lose a lot of your supervisors every single year. How many of you have that happening in your business?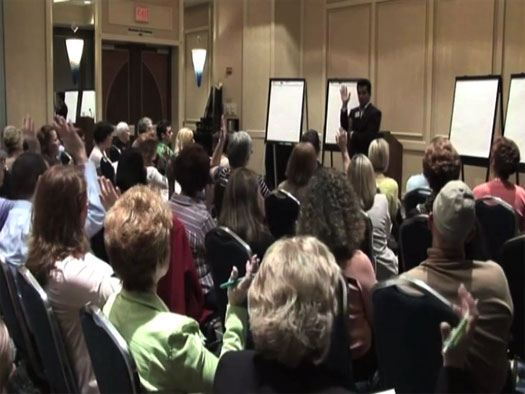 We know that we lose… basically nine of ten people.
I myself identified a lack of significant retail activity as my primary concern in BehindMLM's Herbalife review (Jan 2013).
The single most problematic issue I see with the Herbalife compensation plan is the complete lack of incentive to sell products at a retail level.
I few months after I published my review, Herbalife made the announcement that they were going to track wholesale customer activity starting in April.
This was significant as previously the company disingenuously counted affiliate purchases of product as retail sales. The company also disingenuously claimed that affiliates who did not recruit were infact wholesale (preferred) customers, despite their signing of an affiliate agreement.
The catch-22 was that Herbalife intentionally made no provisions for wholesale customers in their business model. Thus anyone who wanted to legitimately purchase Herbalife products on autoship had to sign up as an affiliate.
The tracking of actual wholesale customers would separate affiliates from actual wholesale customers, and for the first time provide accurate retail activity statistics.
Come April however, Herbalife failed to deliver. To date the company has failed to explain why the wholesale customer tracking wasn't implemented as promised.
I've maintained that upon researching the introduction of a true wholesale customer class, Herbalife realised that nobody was going to sign up with it.
Left with potential egg on their face as affiliates Herbalife had previously claimed were only signed up as affiliates for a discount remained affiliates, the company abandoned the idea.
Herbalife have failed and continue to fail to release accurate statistics detailing retail activity taking place within the company. I maintain that if there was significant retail activity taking place, the company would be shouting it from the rooftops.
Instead we get videos of their top-earners, declaring that the business is not about retail customers, but instead about recruiting affiliates and getting them to purchase Herbalife products.
In response to the excerpts from Gratziani video being made public, Herbalife claimed the footage was 'picking out a few anecdotes that are almost a decade old'.
Herbalife's compensation plan however has remained significantly unchanged since Gratziani delivered his presentation in 2005.
Personally, I think it's high time regulators stopped dragging their feet on this one and stepped up their game.
Herbalife voluntarily disclosed they were the subject of an FTC investigation earlier this year. The agency had previously described Herbalife's business practices as "disturbing".
In the meantime, all signs point to an MLM company operating with little to no significant retail activity – with a business model built with a core focus on affiliate recruitment and the signing up for monthly autoship.
A pyramid scheme by any other name.
Footnote: The existence of the Gratziani video referenced this article was first made public when it was filed, under seal, by affiliates being sued by Herbalife back in 2009.
Herbalife's lawsuit was brought about after the affiliates in question quit Herbalife and went on to start their own rival MLM company.
After the video was entered into evidence, Herbalife quietly dropped their lawsuit.
Earlier this year federal investigators investigating the company subpoenaed Herbalife for a copy of the footage. The excerpts contained in the article above were provided by Bill Ackman's firm, Pershing Square.
How Ackman's firm obtained a copy of the footage is unclear.
Please be advised that offtopic comments about Ackman, Pershing Square and stock market activity will be marked as spam.