Herbalife's top Chinese executive quits, new compensation plan?

In addition to the $200 million dollar fine Herbalife copped for running a pyramid scheme last year, the company was given ten months to introduce a new compensation plan.
Among other things, Herbalife's new plan must accurately track genuine retail sales activity and cease paying affiliates solely on recruitment of new affiliates who purchase Herbalife products.
The settlement order was signed on July 15th, 2016. Ten months onward was a week ago on May 15th.
A visit to the Herbalife website today reveals nothing about a new compensation plan. Any links pointing to existing compensation plans on Herbalife websites all return 404 "not found" errors.
If Herbalife have introduced a new retail orientated compensation plan, they're being awfully low-key about it. Or they haven't released a plan and are currently in violation of the FTC settlement order.
In any event, one possible reason for the lack of public acknowledgement of a new compensation plan is the belief its implementation will be the end of Herbalife in the US.
Right up until they settled with the FTC, Herbalife maintained it had no idea what its actual retail sales were.
This was because the company kept little to no track of what its distributors were doing, outside of recruiting new distributors and earning commissions on their purchases.
I've maintained this was a convenient ploy to ignore a lack of retail activity, which seems to be the same conclusion the FTC reached.
Herbalife executives know retail is non-existent, with how the company intends to survive going forward a complete mystery.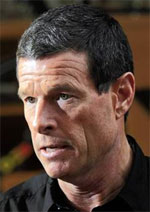 After thirteen years at the helm and maintain Herbalife wasn't a pyramid scheme throughout the FTC litigation, CEO Michael Johnson announced he was abandoning ship last November.
Johnson will actually be stepping down in June next month, which is suspect considering the new compensation plan deadline of May.
Unofficially Johnson has complete access to Herbalife's backend sales reports. He knows what's going on internally revenue wise.
Other than seeing the writing on the wall, why else would Johnson desert a position that saw him reach the heights of highest paid American CEO in 2011?
I mean surely the worst is behind the company now? With the FTC lawsuit settled what's left but to get on with it and really push those retail sales?
Oh right… there are none. And Johnson knows it.
Mirroring Johnson's departure, today news broke that Herbalife's top Chinese executive was also bailing.
The unnamed executive has been with Herbalife for ten years and is reported to have "abruptly" departed earlier this week.
Additionally, according to Factset and their own Form 4's which document insider sales, several Herbalife executives have sold their entire stakes in the company — and did so between May 9 and May 15.

That includes a senior vice president for China and several other senior executives for many regions where the company does business, including here in North America.

Herbalife did not return a call for comment.
Am I reading too much into it? Or does it appear everyone except the company's affiliates are aware that a lack of retail sales and a retail orientated compensation plan spells disaster for Herbalife going forward?
I'm having a hard time believing Herbalife senior executives around the world selling off all their shares a week before the retail compensation plan deadline is purely coincidental.
Granted the new compensation plan applies to the US, but how soon before a non-US regulator asks why Herbalife continue to operate as a pyramid scheme in their jurisdiction?
Footnote: If any Herbalife affiliates are reading, can you confirm whether Herbalife have released a new compensation plan? Wouldn't mind getting a copy for review.