Herbalife affiliate caught out using fake testimonials

If you were going to fudge some online testimonials for a global multi-billion dollar MLM empire, you'd think some random names and carefully scripted marketing copy would suffice.
Not for Herbalife affiliate though. When it came to crafting testimonials for his Herbashop marketing website, this Herbalife affiliate in Norway adtoped a "go hard or go home" approach.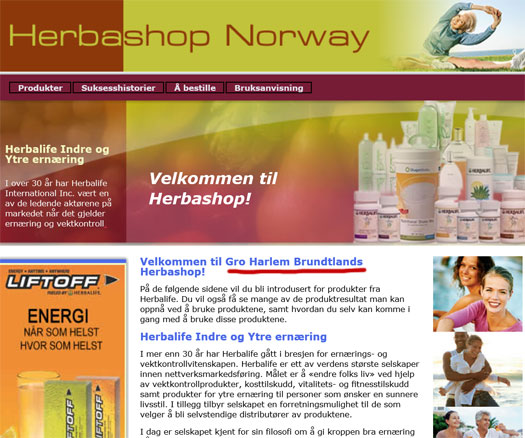 What you're looking at there is the HerbaShop website of Gro Harlem Brundtland. Yada-yada-yada, Brundtland thinks Herbalife is great and wants you to purchase products from her.
Welcome to Gro Harlem Brundtland's Herbashop.

On the following pages you will be introduced to Herbalife products. For more than 30 years Herbalife has been at the forefront of nutritional and weight management science.

Herbalife is one of the largest companies in network marketing. The goal is to change people's lives through weight management products, nutritional supplements, and vitality.

"After only three months I had controlled my weight down and changed pant size from 42 to 36".
Quite the scoop for Herbashop and Herbalife, seeing as Brundtland is a former PrimeMinister of Norway and Director General of the World Health Organization.
Gro Harlem Brundtland is a former Prime Minister of Norway, a current Special Envoy with the United Nations, and the Deputy Chair of The Elders.

Brundtland, MD has served as a physician, a Social Democratic politician and a diplomat, and is now an international leader in sustainable development and public health.

She served three terms as Norway's Prime Minister: in 1981, in 1986–89, and in 1990–96.

She served as Vice-President of Socialist International.

She served as the Director General of the UN World Health Organization and is now a Special Envoy on Climate Change for the United Nations Secretary-General,Ban Ki-moon.

In 2008 she also became the recipient of the Thomas Jefferson Foundation Medal in Architecture. (Wikipedia)
Imagine trying to flog Herbalife to someone not entirely convinced about the health benefits associated with the product range.
Oh I dunno, I'm still not really sure this stuff is good for me…
Yo check it, we got the ex-Director General of the WHO on board. That the's World Health Organization bitches. Health is right there in the title, fo'reals.
Oh well in that case… if Gro Harlem Bundtland thinks Herbalife's the shit, here's my credit card!
If you manage to snag someone from the WHO, milk that connection for all it's worth.
One small problem though… Gro Harlem Bundtland claims she's "never heard of Herbalife".
Ruhroh…
The Norwegian publication Kapital were first to break the story last month: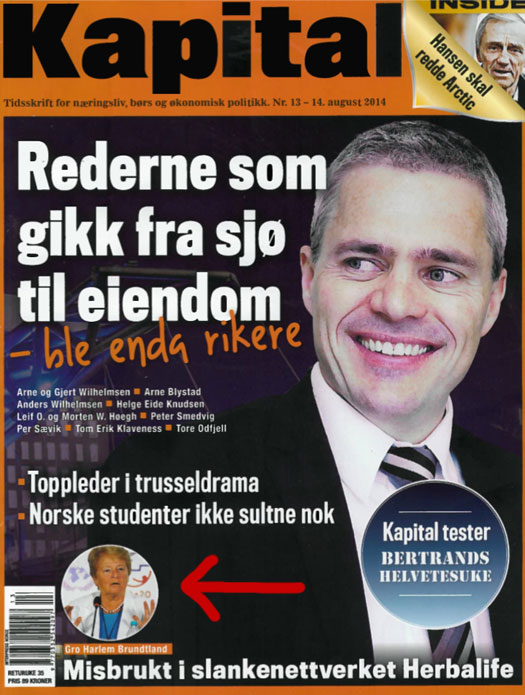 After learning of Brundtland's Herabshop endorsement, they contacted Brundtland's press-officer, Jon Morland of the firm Morland & Johnson, only to be told
Gro Harlem Brundtland has never heard of the Herbalife network and consequently has not signed up for her own website or as member of the company.

Gro reacted with surprise and indignation over the abuse of her name.
Shortly after the fraudulent testimonial was discovered, Herbashop pulled it from their site.
Brundtland herself hasn't ruled out taking further action against Herbalife for the transgression, but at the time of publication no specifics were being discussed:
Brundtland would not comment on how she will address the abuse of her name being portrayed on a Herbalife website credited as her own.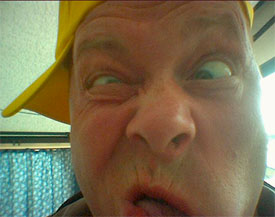 Herbashop itself (herbashop.no) isn't an official Herbalife corporate website, but rather is run by Norewegian affiliate Dan Ove Tuven (right).
The footer of the Herbashop website states (auto-translated):
This site is produced for Norway and the Norwegian market. Results and stories on this page does not guarantee that others achieve the same result.

They testify only about the results that have been experienced by some of our customers have been willing to follow our guidelines and monitoring system.

A person's success will depend on his / her their ability to use the products properly in combination with a calorie controlled eating plan.

Adequate intake of water and regular exercise is also recommended, unless it is laid down restrictions on this from a doctor.

It is recommended to follow the instructions on each product and follow the advice that is being done there. To order products from distributors linked to this website must be 18 years of age, according to Norwegian law.

All products have money back guarantee of 30 days. This warranty does not affect your other rights.

This site belongs to and is run by No1 Training System.

No elements of the page may be reproduced without written permission from No1 Training System v / Dan Ove Tuven.
"Access codes" are required to see anything further on the site, indicating other Herbalife affiliates (Tuven's downline) use the site for marketing purposes.
Kapital contacted Herbalife's Communications Director Alex Lacey for an explanation. Lacey was willing to be interviewed, but said he had
no explanation for why Gro Harlem Brundtland was registered with her own website at Herbashop, despite the fact that she has never been a member of the network.

"Herbashop is members' own website, so I can not comment on that part. But this I must investigate.

If what is claimed on the website is not the case, we need to change this."
Whether or not Herbalife have taken any action against Dan Ove Tuven for the fake Brundtland testimonial is unclear.
Meanwhile Gro Harlem Bundtland isn't the only public figure whose name was used to market Herbalife, with the publication Dagbladet listing several other Norwegian celebrities who are also tied to Herbalife endorsements:
Our former Prime Minister is not the only famous face to have been abused by Herbalife.

Benedicte Adrian, Marian Aas Hansen, Inger Lise Rypdal, Rune Rudberg, Trine Haltvik, Trune Grung and Trude Drevland have also become entangled in the slim network.
Is it really that difficult to find actual testimonials from Herbalife consumers to use on your marketing website?