Gas & Cash: Chamber of Commerce Benefits and FREE gas?

Despite the slow rebound of western economies, the price of gas to fill up your car is on the rise. Some people say it's because of peak oil, some say it's because of greedy profit seeking oil companies… whatever the reason – general consensus is we're going to continue to pay ever increasing prices for gas.
Utilising this as a marketing tool, new MLM startup Gas and Cash are offering their members a $50 gas card as a reward for participating in their company.
This covers the 'gas' component of Gas & Cash… but what about the cash? Today we're going to find out in my review of the Gas & Cash business opportunity.
The Gas and Cash Co-op company
Gas and Cash is a MLM co-op founded by Meredith Hawk and if I've  done my research properly, this is a relaunch of a company that first launched back in 2005.
In 2005 using the now defunct domain 'gaswithcash.com', Hawk started up Gas & Cash. Back then people wanting to join Gas & Cash had to send $250 through the mail to something called the 'A.L.F.E. Corporation'.
In exchange for this Gas & Cash members were then able to participate in the company's compensation plan and awarded $50 gas cards.
By 2007 this joining fee had been reduced to just $25 and sometime after that the company seems to have collapsed.
Now in 2011 it seems Hawk is seeking to resurrect the concept by pairing it with membership site, 'Chamber of Commerce Benefits'.
Chamber of Commerce Benefits appears to be a buying club that revolves mostly around vouchers that their members can use to cut costs in their shopping budget.
Membership to the Chamber of Commerce Benefits club is $29.95 for Gold Membership or $39.95 a month for Platinum membership. The only difference being gold membership 'does not include Towing & Auto Services (24-Hour Roadside Assistance)'.
The Gas & Cash Co-op product line
There are no tangible products for members of the Gas & Cash Co-op to sell or market. Instead, the company's primary product is membership to the third party voucher buying club, 'Chamber of Commerce Benefits'.
Normally a Chamber of Commerce Benefits membership will set you back $359.40 for a gold membership and $479.40 for the platinum. Gas & Cash members are given this yearly subscription for $150.
Cash & Go are advertising that 'this package would cost $479.00 per year', so one can safely assume that Gas & Cash are offering their members the platinum Chamber of Commerce Benefits membership.
The Gas & Cash Co-op compensation plan
The Gas & Cash Co-op compensation plan utilises a 2 x 2 matrix requiring 6 people in total to fill (yourself at the top makes seven) and looks like this;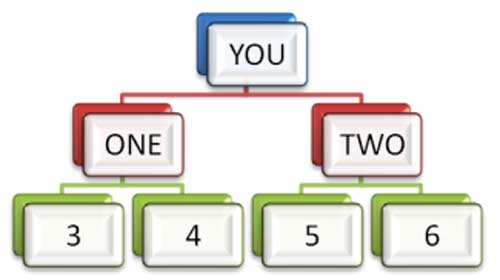 The Gas & Cash commissions payout structure is simple. Each time you fill your matrix you are awarded a $200 payout and cycled into a new matrix.
Your downline follows you into a new matrix upon completion of their own matrix (thus filling up your matrix spots) and spillover trickles down also filling up your downlines matrices.
Note that in order to be eligible for this matrix commission, Gas & Cash members must personally recruit two new members to the company.
In addition to the matrix commission, Gas & Cash members are also rewarded with a $50 'gas card' each time they recruit a new member to the business as well as when one of their personally sponsored members fill up their matrix.
These gas cards are redeemable for gas or groceries and members have the option choosing from Walmart, Costco, Shell or Exxon-Mobil. In essence, they're $50 prepaid cards.
Joining the Gas & Cash Co-op
Joining Gas & Cash is a one off payment of $150 and entitles members to a 12 month platinum subscription to the Chamber of Commerce Benefits voucher based buying club and participation in Gas & Cash's compensation plan, outlined above.
Interestingly enough, despite plans for a website (Gas & Cash do not have an official website at the time of publication), membership is only available via the post.
To join Gas & Cash, prospective members must contact an existing member and have them email a Gas & Cash signup form. This must be filled out and then mailed to A.L.F.E Corporation, operating out of a PO Box in Keller, Texas.
The Gas & Cash terms and conditions state that credit card payments are accepted through 'Alert Pay', but the membership form I've sighted states that Gas & Cash only accept cash or money order sent via mail.
Also note that the Gas & Cash program is only available to residents of the United States.
Conclusion
With the minimum two new recruit requirement for Gas & Cash members to qualify for compensation plan bonuses, it's easy to see how the entire system is reliant on a constant influx of new members.
The company has obviously worked out a discounted membership deal for it's members (whilst touting the full price as a discount) and calculated that so long as new members are continually brought into the system, they cover the costs of the Chamber of Commerce Benefits membership, the matrix commission payouts and gas cards, whilst still making enough to deliver a profit to Gas & Cash itself.
Interestingly, when allegations were made against Gas & Cash back when it first launched in 2005 that it was a pyramid scheme, the company defended itself stating;
The question of legality of any business venture must always be based on the facts and intent of those who are involved in the transaction. If there is no evil intent to defraud or injure a person, no criminal act can occur.

Nobody in this privately financed organization that I know of has any intent to injure you and if they do, we will deal with those problems when they occur.
I don't know about you, but that defense doesn't sound at all legally bulletproof to me.
Additionally Gas & Cash seem to be going to great lengths to fly under the radar. Firstly they only accept membership via mail and secondly Gas & Cash's terms and conditions state;
This is by private invitation only.  No email blasts, craigslist, YouTube videos or safelists, etc. are allowed.  Using any of these sources will lead to immediate dismissal.
Why? Well one possible reason could be a claim touted back in 2005 with the Cash & Save Co-op;
Those who enter our program do so through a method classified as interstate commerce, rather than intrastate commerce, and we provide personal services of value to the person entering the program before any exchange of financial consideration occurs.

In essence we are building a membership list for a private organization, of like-minded, success conscious individuals, who share common interest, goals and in most cases, hopefully, religious and free enterprise beliefs.

This is based on the interstate commerce clause of the Federal Constitution and a ruling made by the US Supreme Court, which says that private organizations may operate within the law without registering with any government agency and private organizations are not obligated to provide any access to the membership list or financial records showing the names or other information about those who make contributions to support the private, member supported organization.

The Cash & Save Co-Op System is a Private Organization.
Now I'm not a lawyer but if I'm reading that correctly, it seems that back in 2005 Meredith Hawk was claiming that so long as his business was a 'private organisation', then it was free from scrutiny by US authorities.
I assume he's banking on the same applying to Gas & Cash, hence the lack of electronic membership registration and requirement to mail all membership correspondence to Texas.
Oh and if you do have a gripe with Gas & Cash, Hawk has that covered too;
I agree that in case of any issue of complaint that I may have, I will not engage the services of any individual not specifically named in this agreement to act as a mediator, and that no person or agency will be allowed to become third party to this agreement.
The above is taken directly from the membership application for Gas & Cash. Again, I'm not a lawyer so I can't comment on the legality of such a clause but if I'm reading it right, then Gas & Cash are trying to prohibit their members from employing any third party legal advice (or government interference?) and stating that any disputes remain between the company and its members.
I imagine trying to resolve anything with Gas & Cash would be a bit of an uphill battle if the only evidence you had was that you sent cash or a money order in the mail. And according to Gas & Cash, being a 'private organisation' they are 'not obligated to provide any access to the membership list or financial records', so good luck trying to resolve anything with them.
A recruitment driven compensation plan, no tangible product, previous track record of a failed business, membership only via the mail (they actually encourage you to send cash in the mail to join), dubious membership terms and conditions and strict policies on how members can promote the business?
Yeah, approach this opportunity with a truckload of salt.
Currently Gas & Cash are operating in pre-launch with a launch date presumably around late May. They expect to have a website live by the end of the month (membership won't be available electronically though this website incase you were wondering) and the first commission checks are expected to be mailed on May 27th.