FacePayBook Review: Advert based Facebook clone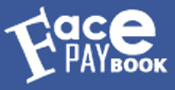 A few years back now MLM social network started to pop up looking to cash in on the evident success of Twitter, Facebook and before them, Myspace.
Typically with these networks revenue would be generated either via monthly membership fees (meaning they usually just wound up being pyramid schemes) or advertisement based, which meant they wound up paying peanuts.
Needless to say over the years not one MLM social network has really taken off and in 2012 I can probably count how many were launched on one hand.
That said, there are those out there still willing to give the social network and MLM combination a shot and today we take a look at recently launched FacePayBook.
Read on for a full review of the FacePayBook MLM business opportunity.
The Company
There is no information on the FacePayBook website indicating who owns or runs the business, other than the mention of "Ashneh Teleservices Pvt. Ltd", who claim to be 'one of the Leading VOIP service provider worldwide'.
Through the development of FacePayBook, Ashneh Teleservices state they will 'leave all the existing social networking platforms far behind in a very short span'.
Despite claiming to be a leading VOIP service provider, Ashneh Teleservices appears nowhere else on the internet other than on the FacePayBook website. I was unable to find any further information on this company or who is running it.
The FacePayBook company domain ('facepaybook.com') was registered on the 8th August 2012, however the domain registration information is set to private.
As always, if a MLM company is not openly upfront about who is running or owns it, think long and hard about joining and/or handing over any money.
The FacePayBook Product Line
FacePayBook has no retailable products or services. Free to join, the company touts its social network as being the 'first time in the history of social networking (people can) earn while you socialize on internet (sic)'.
Obviously designed to look and feel like Facebook, turns out that in reality FacePayBook is nothing more than a purchased "social network in a box" product.
The source code of the FacePayBook website reveals the site is built on "Buddy Zone":
Buddy Zone, developed in 2008, is owned by "Vastal I-Tech & Co." and marketed as a "Facebook clone":

Buddy Zone is a social network script which has all latest technologies needed to run a new version 2.0 "Social Network Website".

Enhanced with latest ajax technologies used in shoutbox as well as the chat room make it one of a unique social networking scripts in market.

The latest version of Buddy Zone includes an interface quite similar to facebook.com and technology quite similar to myspace.com, which gives you opportunity to run the best of both of them.
Buddy Zone is available to anyone for purchase at $399 and $39.99 a month thereafter.
The FacePayBook Compensation Plan
As mentioned earlier in this review, MLM social networks typically create revenue either via membership fees (recruitment) or advertising. FacePayBook appears to be a combination of the two.
Advertising Revenue
In order to get paid via advertising revenue FacePayBook members must 'click 5 ads everyday' that are "flashed" on their "profile page" and recruit at least 5 new FacePayBook members every week.
FacePayBook claim that advertising revenue generated by members clicking ads on the network will then be distributed amongst qualifying FacePayBook members.
FacePayBook do not disclose how much revenue they make per member click, only stating that they are offering the 'cheapest Advertising prices for (their) website'.
Free members must wait till they have a minimum cash out balance of $100, whereas "Premium" members can cash out at any time.
Recruitment Commissions
Premium membership to FacePayBook appears to be a one-time fee of $100. Using a unilevel MLM compensation structure, FacePayBook pay out commissions upon the recruitment of new Premium members.
A unilevel compensation structure places a member at the top of a unilevel team. Any new members they recruit are placed directly under them, forming level 1 on their unilevel team.
If any level 1 members recruit new members of their own, they are then placed on level 2 of the original member's unilevel team and so on and so forth.
Using this structure, FacePayBook pay out cash commissions on the recruitment of Premium Members, paid out down 10 levels as follows:
Level 1 – 20% ($20)
Level 2 – 9% ($9)
Level 3 – 8% ($8)
Level 4 – 7% ($7)
Level 5 – 6% ($6)
Level 6 – 5% ($5)
Level 7 – 4% ($4)
Level 8 – 3% ($3)
Level 9 – 2% ($2)
Level 10 – 1% ($1)
Joining FacePayBook
Membership to FacePayBook comes in two varieties, Free Membership and Premium Membership for $100.
There appears to be no difference between the two, other than Premium members being able to withdraw earnings before the $100 minimum amount required by Free members.
Conclusion
If you're going to go toe to toe with established social networks numbering members in the hundreds of millions, the simple fact is you have to be bringing something new to the table on the end-user side of things.
In using a clone script available to anyone, FacePayBook are definitely not doing this on the programming side of things.
Not only that, but the owners of FacePayBook also seem to have no qualms about completely ripping off large portions of the official Facebook website. Here's FaceBook's Terms and Conditions:

And here's FacePayBook's:

Spot the difference? Apart from changing "Facebook" to "FacePayBook" there isn't one, even down to mentioning that all disputes will be resolved in Santa Clara County, California.
Additionally, the admin forgot to thoroughly edit the copy and paste job they did, with several links on the FacePayBook website all pointing to documentation hosted on the official Facebook site: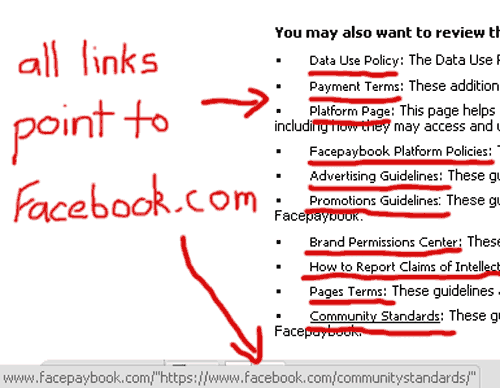 It could be argued that allowing members to earn via advertising is something new, however it's been done countless times before and to date hasn't really caught on.
The major reason for this is most likely due to the notoriously low "click-through rate" social network advertising generates and fact that you are essentially sharing tiny amounts with potentially thousands of users.
And the more people who sign up, the worse the payouts get.
FacePayBook attempt to address this by forcing their members to click 5 ads a day, however from an advertiser stand point this provides little value for their advertising dollar as those clicking their ads are doing so hoping to get paid, rather than out of any genuine interest in the products or services being advertised.
On the recruitment side of things this appears to be a straight up pyramid scheme paying out Premium membership fees on ten levels of recruitment.
Interestingly enough FacePayBook claim they 'don't get any money from new people joining' them, but noticeably they only pay out $65 of every Premium membership sold, with $35 left unaccounted for.
There's no mention that this $35 goes into the advertising revenue share pool, so one can only assume the company pockets the leftover amount.
Either way, members being paid to recruit new Premium members with commissions being paid out of the membership fees paid is a red flag.
With countless MLM social network opportunities failing before it, there appears to be little doubt that FacePayBook will suffer the same fate.
At the end of the day if you want to attract social network users you have to provide them with something new. And if that something new is the ability to earn money via advertising, then you need to be delivering value to potential advertisers.
Forcing users to click on ads does not provide value to advertisers.
Thus discounting the advertising side of FacePayBook and all you're left with is a shallow $100 a pop recruitment scheme.