Did Empower Network "defraud" Mack Zidan?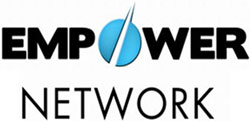 In September of 2012 CEO David Wood "gave props" to Mack Zidan and named him Empower Network's "top recruiter".
I'm not sure whether now, over a year later, Zidan still holds the top recruiter title, however to date Zidan claims to have personally recruited over 2900 affiliates into Empower Network.

As a result Zidan, who refers to himself as "Mack Millions", was a regular fixture at Empower Network's 2013 events, winning multiple affiliate recruitment competitions held throughout the year.
Whereas once upon a time David Wood would refer to Zidan as "pure internet gangster", these days the relationship between the two appears to have deteriorated.
How bad have things gotten? Today Mack Zidan openly accused Empower Network of fraud.
Taking to Facebook to share his story, Zidan published the following warning to Empower Network affiliates a few hours ago: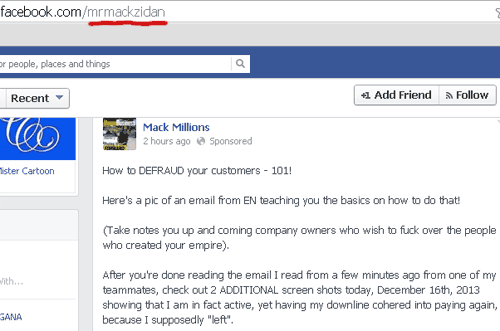 How to DEFRAUD your customers – 101!

Here's a pic of an email from EN teaching you the basics on how to do that!

(Take notes you up and coming company owners who wish to fuck over the people who created your empire).

After you're done reading the email I read from a few minutes ago from one of my teammates, check out 2 ADDITIONAL screen shots today, December 16th, 2013 showing that I am in fact active, yet having my downline cohered into paying again, because I supposedly "left".

Interesting that EN corporate emailed 2900+ of my personals (and power line payments from my teams pass ups) claiming I was no longer active and advising them to CREATE a NEW payment under my sponsor, Chuck Marshall (hey at least they tried to get the downline compressed to the right sponsor and not KEEP IT like they ALWAYS DO when someone QUITS EN – which again – I did not).
The Empower Network email Zidan refers to is reproduced below (click to enlarge):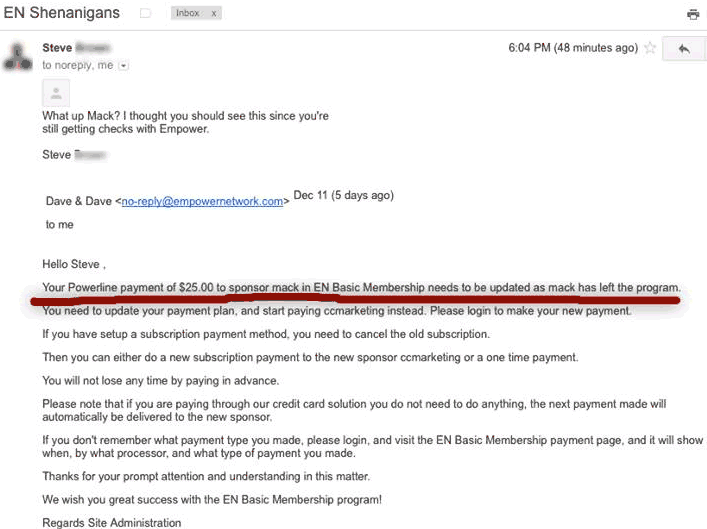 Your powerline payment of $25 to sponsor mack in EN Basic Membership needs to be updated as mack has left the program.
Sent from "Site Administration", it does appear to request Zidan's personal downline redirect their monthly payments to Zidan's upline, Charles "Chuck" Marshall.
The email is dated December 11th, with additional information provided by Zidan raising some concern about Empower Network's actions.
Along with Zidan's warning above, he also included two screenshots which, as of December 16th, appear to show his Empower Network affiliate account as "active" and receiving commissions (click to enlarge):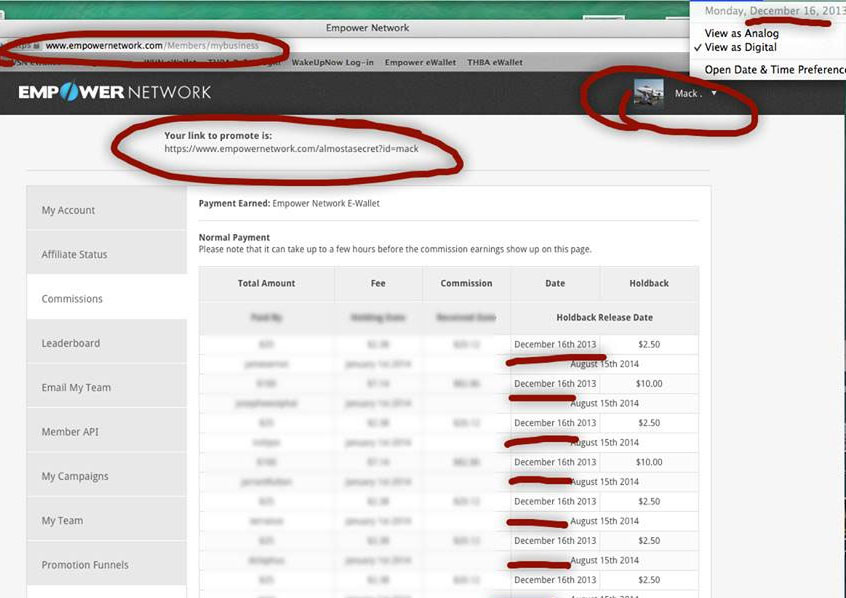 This would, as Zidan notes, seem to contradict Empower Network's claim that Zidan has "left the program".
It's wholly noted that Zidan is using the situation to shamelessly promote some new opportunity he's a part of. I thought this was a bit strange as typically, getting screwed out of close to three thousand direct recruits would result in far more than an angry Facebook rant.
Combined with five days between Zidan's "active" screenshots and Empower Network's email to Zidan's downline, I'm thinking there's more to this story. What though I'm not sure.
In addition to whatever new opportunity Zidan is currently pimping, he's also been involved in numerous other opportunities for some time now. Empower Network haven't had a problem with this in the past so I'm doubting they do now.
And it's not like Zidan has been secretive about his involvement in multiple MLM opportunities. Through his "EZ Money Formula", released earlier this year, Zidan openly targets affiliate recruitment into GVO, Pure Leverage and Empower Network.
On Empower Network's end David Wood offered up his thoughts on multiple streams of income in August, writing
I don't knock anyone's game, the way they want to play it – but I protect my team from nonsense.

Multiple income streams works – for people who already know what they are doing only. For people who are full time only. For people with massive lists only.

Focusing works.

Focusing builds bigger, more successful, more long term incomes with less management, maintenance, skill, and work, though – there's nobody in direct sales who can debate that with me successfully.

Look at the largest incomes, the most long term, with the most leadership – and you have ALL… and only people who focus on one thing for a long time at the top.

It takes a long time to develop leaders. Occasionally you sponsor them. Developing them though is the way to the greatest future.

So do what you want to do – but stay away from distracting my organization – because I'm better at distracting them towards focus.

Here's the thing:

We welcome both in our team. Someone can come in, slam as many people in as they want – then move to the next thing. Not a big deal. They'll still get their income. We'll never, ever terminate them. 

They are free agents – allowed to promote what they choose. And, we still love them.
Wood does mention "protecting his team" so I can't help but wonder if Zidan crossed some line. If he did though, that still doesn't explain why Empower Network are telling his downline he left when he didn't.
As for Zidan's claim that Empower Network keeping downlines of affiliates who leave the company, that I can't personally comment on but the BehindMLM reader who tipped me off on this story shared their own experience:
I signed a guy up last summer and several of his payments mysteriously vanished from me.  The same thing happened with a lady i signed up.  She joined through MY blog, yet her account joined right under Dave and Dave.
On Zidan's Facebook page similar comments by other Empower Network affiliates have been made:
Scott Smith: That's what happened to me with the launch if ENV2 lost huge amount of team member who had to re new there 25 & 100 the $19.95 worked but not what pays me and I still can't re new mine to Tony Rush and I'm down about 7k a month.
Cerron Pritchett: Yep that explains why I signed up people and then the next month didn't get a recurring commission!
In a comment left on one of his posts, Zidan goes on to claim that Vick Strizheus (an Empower Network millionaire) was removed from his downline:

Meanwhile whether Zidan knows why Empower Network have moved against him is unclear.
At the time of publication I haven't seen anything official from the company or David Wood or Sharp addressing the issue. Zidan's Empower Network upline, Charles Marshall, also hasn't mentioned anything about it on his Facebook page (last updated December 12th).
At best, claiming Zidan left the company when he didn't and getting his immediate downline to sign up under somebody else is deceptive. If Zidan was indeed terminated for some reason, then at the very least his Empower Network affiliate status should reflect that. Furthermore whatever that reason was, that's what should have been communicated to his downline.
Whether Empower Network will respond directly to Zidan's claims remains to be seen. In the meantime though, he's telling Empower Network affiliates to "get the fuck out while you still can!"
Sage advice or just sour grapes from somebody who got caught doing something they shouldn't?
Stay tuned…