doTerra's uneasy r/ship with neo-Nazi memelord Pete Evans

In the wake of a neo-Nazi memelord scandal, doTerra terminated Pete Evan's as a distributor.
Less than 24 hours the company backflipped and re-instated Evans. In a statement put out by doTerra, the company apologized for not "thoughtfully reviewing" the situation.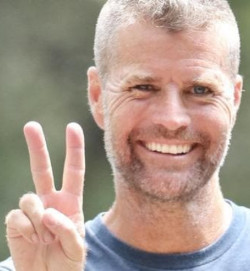 If you're not Australian or don't live in the Australia, there's a good chance you haven't heard of Pete Evans.
Evans started off as a chef. He gained prominence in Australia as a judge on a popular cooking show.
I didn't watch the show but was aware of Evans as a staunch supporter of the paleo diet.
As a national celebrity, Evans enjoyed widespread popularity around the country. Sometime around 2015 though, Evans began his descent into notoriety.
Aside from familiarity with food through his profession, the only education Evans has in nutrition is an online course provided by the Institute for Integrative Nutrition.
The Institute for Integrative Nutrition is unaccredited, but does hold a license from the New York State Education Department.
2015 was the year Evans co-authored "Bubba Yum Yum: The Paleo Way for New Mums, Babies and Toddlers". Publication of the book was delayed, after health experts warned it could put babies at risk.
Following public outcry, a revised version of the book eventually made it to market.
Since then Evans appears to have suffered from a case of "must get into the headlines", leading to increasingly irresponsible behavior.
Wikipedia has a great little summary of Evans' nuttery since 2015, so I'll defer to them;
In 2016, Evans gave advice to an osteoporosis sufferer on Facebook to stop eating dairy products.

His claims that the "calcium from dairy can remove the calcium from your bones" and that "most doctors do not know about this" were widely condemned by medical professionals.

In 2018, Evans furthered his opposition to the use of sunscreens, and promoted brief and direct looks into the sun without any means of protection, during sunrise and sunsets, which drew criticism as it can cause vision loss.

Evans is opposed to fluoridation of drinking water, and considers ingredients in many sunscreen products to be toxic.

In 2019, Evans was criticised by medical experts for spreading misinformation about vaccinations.

In early 2020, it was reported that Evans had been photographed with prominent anti-vaxxer Robert F. Kennedy Jr admiring his work as "important".

In May 2020, Evans received criticism from Australian Labor MP Josh Burns for promoting a video by conspiracy theorist David Icke which claimed both that the COVID-19 virus did not exist and that the virus was caused by 5G antenna installations.
You know the type…
Anyway, continuing on with COVID-19, as the pandemic was taking root in Australia in the first quarter of 2020, Evans began promoting
a "subtle energy platform" product online called the BioCharger NG for AUD$15,000, which he claimed had a "recipe … there for Wuhan coronavirus".

The Australian Medical Association dismissed it as a "fancy light machine".

The Therapeutic Goods Association announced it would investigate the product promoted by Evans "in relation to any illegal advertising of therapeutic products, including advertising on social media" warning that the advertising of therapeutic goods needed to meet certain requirements.

The creators of the product distanced themselves from Evans' claims, whilst the Australian distributors, Hydrogen Technologies Pty Ltd, continued to state that it would help "open the airways of Coronavirus victims by reducing the inflammation it causes in the lungs" as well as other therapeutic claims.

After investigation, the TGA issued two infringement notices to Peter Evans Chef Pty Ltd totalling AUD$25,200.
Evans' fall from grace culminated earlier this month, when he shared a neo-Nazi meme on Facebook.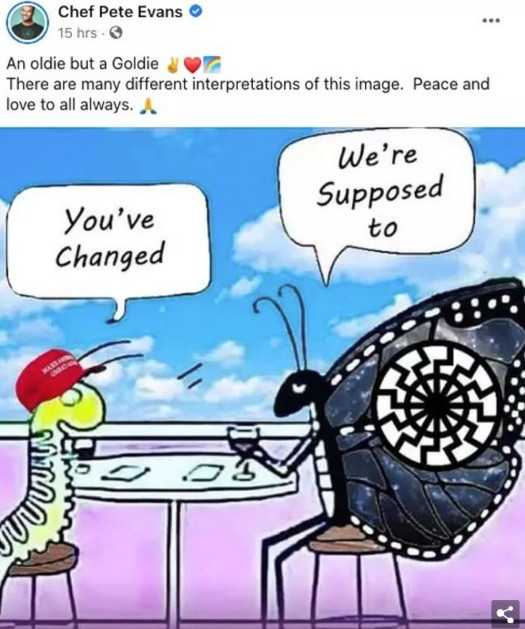 When someone pointed out the symbol, Evans replied he was "waiting for someone to see that".
Following media picking up on the story, Evans deleted the post and claimed that, at the time, he didn't know what a neo-Nazi was.
Evan's latest stunt has seen no less than nineteen corporations drop ties. Among them, doTerra.
I'm not exactly sure when Evans joined doTerra, but he's been an independent distributor with the company for some time.
Evans promotes the company's essential oils to his social media following, the same as any other doTerra distributor.
In a statement released on or around November 19th, doTerra announced it was "suspending its business relationship" with Evans.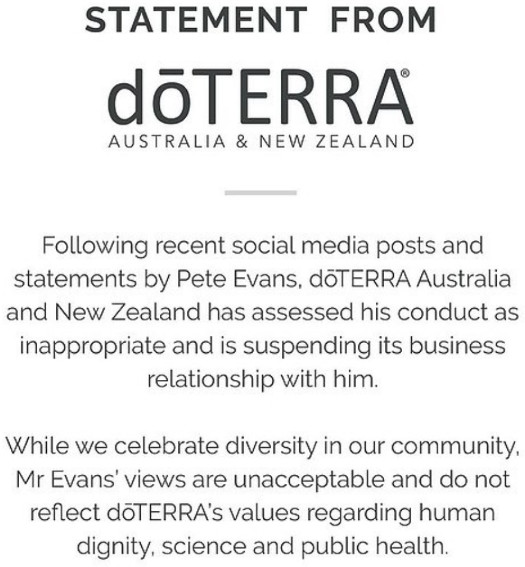 Presumably following outcry from Evans' downline and possibly other doTerra distributors, within twenty-four hours doTerra walked back its statement.
Recently, the dōTERRA Australian office felt mounting pressure from a public controversy resulting from a well-known Australian's social media posts and reacted with a statement that failed to receive the required thoughtful review that it merited.

The statement should not have been posted. Among the several errors in the office's statement is a fundamental one that doTERRA does not publicly discuss its interactions with its consumers and independent distributors nor do we publicly shame any individual.

dōTERRA has always sought to be a haven for its global family. A place where people may come together in their love for empowering each other, sharing the world's purest essential oils, and embracing each other regardless of differing views.

dōTERRA seeks to build unity and love, especially in these divisive times. Please accept our apologies for any misunderstandings or hurt feelings.
To their credit doTerra don't appear to be filtering comments left on their Facebook announcement. Reaction from the field has been mixed.
Writes one doTerra distributor;
You should have stayed out of it. No one needs to be babied by corporations – we can THINK for ourselves. Thought policing is BAD policy.
From another;
I am disgusted and absolutely disappointed. I love your oils but this kind of behaviour and management speaks volumes about what you truly stand for.

I will be seriously considering what, if any, investment I spend on your company now.
There are 1200+ comments on doTerra's post as I write this, so their response has certainly elicited a reaction.
As far as I'm aware, doTerra is the only company to reverse their decision to cut ties with Evans.
In response to losing practically every professional corporate relationship he's spent the better part of a decade building, Evans has effectively deplatformed himself.
Evans will still maintain an online presence, but only on properties he has control over.
Personally I don't have a problem with Evans remaining a doTerra distributor – provided he's not making whacky claims about the company's essential oils.
As for doTerra's dumping and reinstatement of Evans, I think who they choose to associate themselves with is up to them. And the public perception that goes with that either way.
I know I certainly wouldn't want to associate BehindMLM with a nutjob who seems hell-bent reaching the bottom of the conspiratorial rabbit hole. But I imagine I don't attract the same type of people that intersect doTerra and support of Evans.
For his part, Evans claimed in September that he'd been using essential oils since he was nineteen – long before he boarded the dangerous nutrition/anti-vaxxer/covid denial/neo-Nazi memelord train.
If doTerra's backflip is anything to go by, it seems a sizable vocal percentage of distributors share Evan's "alternative" views on health and well-being.