Digital Experts Academy Review: $19,999 membership

There is no information on the Digital Experts Academy website indicating who owns or runs the business.
On Digital Experts Academy's "about" page, the company simply states:
Founded by a group of young Internet entrepreneurs who have been cashing in on the Digital Gold Rush over the last five years, DEA's ultimate goal is to help its members become financially self sufficient as digital entrepreneurs in the new economy.
Meanwhile Digital Experts Academy's website domain was registered on the 13th of August 2012, however the domain registration information is set to private.
If you click "promote" on the Digital Experts Academy website, the company redirects you to join something called "The Six Figure Mentors":

In what appears to be a similar vein to Digital Experts Academy,
The SFM provides a state-of-the-art comprehensive direct marketing solution complete with the tools, training, coaching and community required to launch and grow a successful business.
Unlike Digital Experts Academy however, The Six Figure Mentors' "About Us" page is a little more forthcoming with information on who's running things:
In 2010 Internet entrepreneur Stuart Ross started the concept of forming an online community and training organisation to leverage the exact business model that enabled him to quit his job and build a multiple six figure income business his very first year online.

This community and training company is now known as The Six Figure Mentors (The SFM) and focuses on helping people generate more income, improve lifestyle and create more freedom by tapping into the power of the Internet.
The Six Figure Mentors is a membership site that sells membership for $297 upfront and $97 a month thereafter.
On a marketing video on The Six Figure Mentor website Stuart Ross refers to himself as a co-founder of both The Six Figure Mentors and Digital Experts Academy.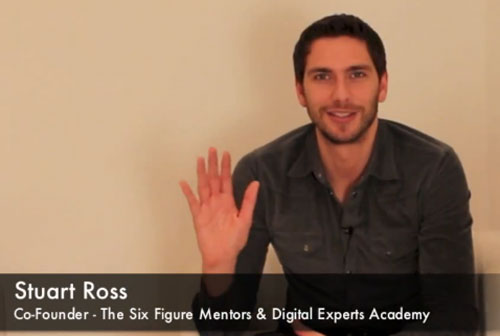 I couldn't see any information about the other co-founder(s) anywhere else on The Six Figure Mentors website. The "SFM Team" page on The Six Figure Mentors website simply has a picture displaying "coming soon" on it: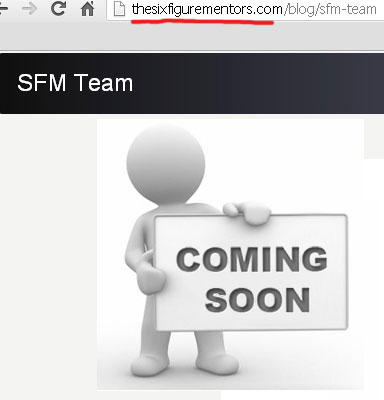 Why this information is not openly disclosed on the Digital Experts Academy website is not known.
Read on for a full review of the Digital Experts Academy MLM business opportunity.
The Digital Experts Academy Product Line
We looked at everything someone starting from scratch would require to successfully transition to being a full time digital marketer, and beyond.

Based on that, we created four levels of membership designed to take you from being an opportunity seeker all the way to being a digital expert.

Each level was specifically designed to graduate the member to the next phase of self-reliance by teaching a new set of marketing, leadership and entrepreneurial skill-sets.
As above, there are no retailable products or services within the Digital Experts Academy opportunity. Digital Experts Academy affiliates join the company and then sell membership to the company itself to new affiliates.
There are four levels of membership within the company, ranging from $2499 to $19999. All four levels of membership appear to be yearly recurring.
Silver ($2,499) – "e-learning" course
Gold ($4,999) – 12 month coaching program and 3 day bootcamp
Platinum ($9,999) – 3 day workshop, "professional website" with social media profiles and brand building training
Black ($19,999) – ticket to an annual "mastermind retreat"
Note that Black membership requires Platinum membership as a pre-requisite.
Digital Experts Academy claims their memberships will take an affiliate who buys them 'from an opportunity seeker all the way to digital expert'.
The Digital Experts Academy Compensation Plan
With no retailable products or services, the Digital Experts Academy compensation plan revolves around the sale of memberships to newly recruited and existing affiliates.
Commissions are paid out at a rate of 40% of the sale price of the membership to the affiliate making the sale, and 10% to their upline.
Note that in order to receive commissions Digital Experts Academy affiliates must be "qualified".
Affiliates must qualify for each level of membership within Digital Experts Academy and can do so by either purchasing the memberships themselves or selling them to five recruited affiliates.
Note that affiliates who opt for the second option will receive no commissions until their 6th sale.
Joining Digital Experts Academy
Affiliate membership to Digital Experts Academy is $99 a year.
Affiliate membership to The Six Figure Mentors is a prerequisite for Digital Experts Academy, which is an additional $297 upfront and $97 a month recurring.
According to a marketing video on the Six Figure Mentors website, apparently there's also a $19.95 fee just to apply for membership to the company.
Conclusion
The era of "big ticket" MLM opportunities running into the tens of thousands of dollars has died down considerably over the past couple of years but there are still a few of them around.
Digital Experts Academy is one such example and provides affiliates the chance to sell four tiers of membership at a hefty price.
Despite having an option for affiliates to pass up five sales, the obvious idea is for affiliates to buy into the membership levels themselves.
Why?
When you're trying to sell memberships that run into the thousands of dollars to people, they're naturally going to want to hear a personal testimonial on the benefits of the various Digital Experts Academy memberships available.
If an affiliate is unable to afford the membership they're trying to sell, that hardly plays into the "we'll make you a succesful digital expert" sales pitch.
Selling expensive memberships designed to 'help you live the life of your dreams' is hard enough as it is, let alone when your prospects know that you yourself can't afford them.
And it's going to be harder still when you tell them they have to sign up as a Six Figure Mentor first, pay an application fee, be interviewed, pay $297 and only then be able to join Digital Experts Academy.
Using a combination of "attraction marketing", exclusivity under the guise of "protecting their exclusive membership group", what you effectively wind up with is a membership driven opportunity that requires a constant influx of new recruits to continue.
You join Digital Experts Academy, either buy into the membership levels yourself to qualify for commissions or sell it to 5 new affiliates, who then also must do the same.
What does membership entitle you to? Training that ultimately is to be used to better market the income opportunity itself to prospective affiliates.
Typically trouble starts in high ticket MLM companies when those at the bottom are unable to recruit new affiliates to buy into the lower rungs of the membership options. When this happens they stop paying their fees and the effect trickles up.
The word "refund" does not appear anywhere on the publicly available sections of the Digital Experts Academy website, which is a red flag to take note of.
The Six Figure Mentors website mentions it in their "membership agreement":
1.2. To be eligible for a refund, you must notify us, and our support desk with your request and reason for canceling.
But doesn't go into any explicit detail. With 50% of membership fees paid out as commissions to other affiliates, I imagine the refunds process isn't all that straight forward.