Michael Force buckles, Digital Altitude settlement reached with FTC

In a complete backflip from being "not interested" in settling as of October 2nd, Michael Force has reached a settlement with the FTC.
At this stage details of the proposed settlement have not been made public.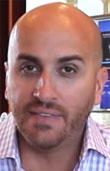 In an October 9th joint filing, the FTC and Force (right) requested a stay on proceedings pending approval of the settlement by FTC Commissioners.
Counsel are informed and believe that it will likely take between eight and twelve weeks to secure this approval.
If approved by the FTC Commissioners (I've yet to see an MLM related settlement rejected), details of the settlement will then be made public in a separate filing.
The requested stay on proceedings against Force, if granted, will extend to January 1st, 2019.
Update March 10th 2019 – An approved $54 million dollar judgment against the Digital Altitude defendants has brought the FTC's case to a close.