Daily Wealth Ads Review: 4% daily ROI over 50 days
There is no information on the Daily Wealth Ads website about who runs or owns the company.
The domain dailywealthads.com was registered on the 7th March 2012 however the registration information is set to private.
As always, if a MLM company is not openly upfront about who is running or owns it, think long and hard about joining and/or handing over any money.
The Daily Wealth Ads Product Line
Daily Wealth Ads sell 728×90 and 468×60 advertising banner positions at a rate of $10 and $20 respectively for 5 days.
Additionally the company also allows people to sign up as members and participate in the company's investment scheme. When investments are made with Daily Wealth Ads, the company throws in advertising credits which members can use to advertise on the Daily Wealth Ads advertising network.
This network displays member's advertisements on the Daily Wealth Ads website itself.
The Daily Wealth Ads Compensation Plan
After joining Daily Wealth Ads members can then make investments into the company in $10 lots. Daily Wealth Ads guarantee a 4% daily return on these investments over 50 days (200% ROI).
Note that only 60% of this ROI is actually paid out to members with the other 40% having to be re-invested back into the company. Members are also capped at investing $15,000 into the scheme at any one time.
Additionally Daily Wealth Ads also offers referral commissions on the investments made by those recruited into the company. Direct recruits (level 1) pays out 10% and their recruits (level 2) pay out 5%.
Joining Daily Wealth Ads
Membership to Daily Wealth Ads is free, however an investment must be made before any commissions can be earnt.
Free members can generate earnings off the referral commissions Daily Wealth Ads offers, but if they want to actually cash out they themselves must make an investment with these commissions first.
Conclusion
Even with a retail advertising offering the value of the advertising being bought means that it's largely negligible when tallying up where Daily Wealth Ad's returns are being paid out of.
There is no third-party exposure on the Daily Wealth Ads advertising network with all visitors to the site solely visiting it because of the income opportunity. Thus it's highly unlikely they will sell any retail advertising, and pretty much guaranteed that the retail advertising revenue will cover 200% ROIs.
That leaves new members investments being used to pay out existing investments, which boils down in a bog standard Ponzi scheme.
The 40% forced re-investment will just prolong the inevitable sustainability problems and with Daily Wealth Ads admin(s) only processing payments once a week, they've got more than enough time to spot any trouble and shut the company down before any member's realise what's happened.
Finally the company takes great pains to stress that it's not an investment opportunity:
DailyWealthAds is primarily an advertising program. You are purchasing Ad Packs where you will instantly be credited with text and banner advertising credits to use to advertise your programs.

There is NO Investment Or Investing of any sort.
Yet fails to offer any refunds on the advertising credits supposedly being purchased:
 ALL SALES ARE FINAL. NO REFUNDS will be issued for any reason.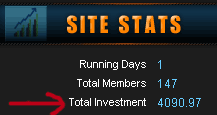 If members were indeed purchasing advertising credits, should they not use the credits then logically they'd be entitled to a refund. Of course with Daily Wealth Ads operating at an investment scheme, the new money invested is immediately scooped up to pay existing member's owed returns. So infact nothing is really being purchased.
Oh, and just incase you weren't completely convinced, there's always the box on the Daily Wealth Ads website that tells you how much has been invested, sorry "purchased" by Daily Wealth Ads members (the image was taken directly from the Daily Wealth Ads website).