Community Commerce Group Review: A $300 p/m scheme

When you visit the Community Commerce Group (CCG) website, it isn't long before some guy walks out from the right side of the screen and starts on you with the hard sell:
Hello. I'm about to share with you the most important information of your lifetime.

By becoming a member and participating in our program…you can put extreme wealth in your own pocket.

Our affiliate program can build you an income from eighteen thousand to over one million dollars a year, with as little as four days effort.

Sadly enough there would be the doubters who would foolishly throw away a million dollars… but if one million dollars plus excites you, as it certainly does me, then join us today.
Given the lack of formal introduction or mention of any position with Community Commerce Group, I'm going to go out on a limb and suggest this is simply a paid actor.
A quick look at the Community Commerce Group source-code reveals a script pulled from 'yourwebsitespokesperson.com':

And sure enough, in the 'make model' section of the YourWebsiteSpokesperson website, there's our guy – "Darron S.":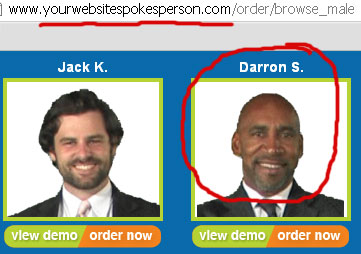 For a modest monthly fee, anyone can have Darron S. feature on their website marketing pretty much anything.
So who then is running Community Commerce Group?
Unfortunately there is no information on the Community Commerce website indicating who runs or owns the company.
The company website domain ('ccggo.com') was registered on the 14th March 2012, however the domain registration information is set to private.
Community Commerce Group do provide the following corporate address on their website:
501 Darby Creek Rd. Ste. 56A, Lexington, KY 40509
But a Google search reveals multiple businesses operating out of this address, meaning it's most likely nothing more than virtual office space.
Update September 14th, 2012 – After failing to pay their hosting bills, the following message briefly appeared on the Community Commerce Group website:
This account is on hold due to a past due payment.

Community Commerce Group LLC (Josh Walden), Please contact JWM Marketing & Web Design to remedy this issue.
Josh Walden (also known as 'Joshua Walden') cites himself as being 'the president of Community Commerce Group' on the support forums for 'Post Affiliate Pro' (an affiliate program backend).
Coupled with the notice from JJWM Marketing & Web Design above, it appears Josh Walden is behind Community Commerce Group.
I was unable to find any further information on his history in MLM so I'm not sure if this is his first foray into network marketing and running a company. /end update
Read on for a full review of the Community Commerce Group MLM business opportunity.
The Community Commerce Group Product Line
Community Commerce Group has no retailable products or services. The only thing able to be purchased from the company is membership itself.
Bundled with each CCG membership is the following:
a replicated e-commerce website (which Community Commerce Group claim is worth $4,500)
one new training session each week ($1,499)
placement in the company replicated website rotator ($199)
access to body building, mixed martial arts, self-defense training, home cooking and financial advice videos
The Community Commerce Group Compensation Plan
The compensation plan page on the Community Commerce Group website has some information about what is bundled with membership to CCG and a link to a "presentation".
If you click the link however wanting more information, you are redirected to another website that demands a password before you can actually view anything.
This doesn't appear to be a joke, however CCG do not state what the password is to view their compensation plan or why one is required.
In my research into Community Commerce Group I came across the company's compensation plan, which made the claim that it was 'the highest affiliate pay plan in network marketing history'.
In a nutshell, for each member you recruit into Community Commerce Group, the company will pay you $60 a month.
Using a unilevel style MLM compensation structure, this $60 commission extends down four levels.
A unilevel compensation structure places an affiliate at the top of the structure, with each personally recruited affiliate placed directly under them (level 1). If any of these level 1 affiliates recruit new affiliates of their own, they then count as level 2 for the original affiliate and so on and so forth.
Community Commerce Group members are also able to earn 1-28% commissions selling company-provided ebooks through their company-hosted replicated websites.
Joining Community Commerce Group
Membership to Community Commerce Group is $349.99 for the first month and then $300 a month thereafter.
Conclusion
All of the products featured in the replicated e-commerce websites Community Commerce Group provide affiliates are third-party digital products, of which the sale of any generates a commission that affiliates keep 100% of.
This commission is paid out directly by the vendors to affiliates, meaning it is completely external to CCG's compensation plan and the business opportunity itself.
Within the CCG business opportunity, the only transactions that take place are membership subscription payments between affiliates and the company. Each month CCG affiliates must pay $300 a month to the company and in return the company pays them $60 per member they've personally recruited and any members their downlines have recruited, paid out down four levels.
With no products being sold (the compensation material I cited even stated "no selling" as a marketing point) and 100% of the company generated revenue being paid monthly in the form of membership fees by affiliates, Community Commerce Group winds up being nothing more than a monthly subscription based pyramid scheme.
Those that join have to recruit in order to establish a level 1 to earn a monthly residual commission on, in the hope that they will recruit more members so that the full monthly commission can be earnt down four levels.
Curiously in a Community Commerce Group marketing video I watched as part of my research into the company, MLM Attorney Kevin Thompson's name popped up as being part of CCG's "Ultimate Legal Team":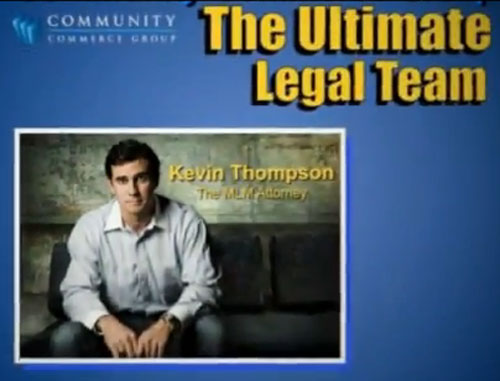 CCG are claiming Kevin Thompson is part of a legal team working with the company (compensation plan material I cited claimed the same), however looking at the CCG compensation plan I can only wonder how in his right mind Thompson signed off on this.
On the other hand if Thompson has nothing to do with CCG, he might want to look into why this company and its affiliates are around claiming he's heading up their legal team when he's not.
Regardless of Thompson's involvement or not, with no products being sold within the CCG opportunity and money simply being shuffled around members, once those monthly membership fees stop so do the commissions.
As membership cancellations begin to roll up the uplines because those at the bottom can't find anyone to recruit, with it then comes the inevitable pyramid scheme collapse.