ClickLancers Ponzi scheme collapses, website gone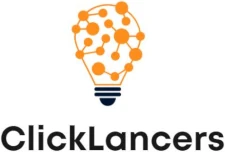 The ClickLancers Ponzi scheme has collapsed.
Following a switch to weekly withdrawals on May 1st, ClickLancers pulled its website sometime over the past 24 hours.
As per a May 1st announcement from ClickLancers;
Starting May 1st, we will switch from daily withdrawals to weekly withdrawals.

The reason for this change is that we are moving to a new payment plan, which means our customers pay us weekly. In return, we also have to pay our users weekly.
Under this model, the first withdrawal payment for May was supposed to be made on May 5th. Instead of paying investors, ClickLancers pulled its website offline.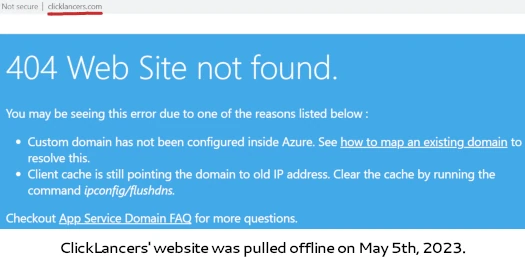 ClickLancers' social media profiles have also been deleted.
ClickLancers launched in early 2023. Affiliates invested up to $1800 on the promise of a $26,748 annual ROI.
The ruse behind ClickLancers' Ponzi was social media manipulation. This falls under the common "task-based" Ponzi model.
Under this model, investors of Ponzi schemes are required to complete pointless tasks to qualify for returns.
Who ran ClickLancers is unclear but the scam had ties to India and the UK.
SimilarWeb tracked 1.3 million visits to ClickLancers' website in March 2023, up from 300,000 in February.
Top sources of ClickLancers' website traffic are Russia (59%), Indonesia (13%), Brazil (6%), Bangladesh (5%) and the Philippines (5%).
Total ClickLancers victim numbers and how much they've lost is unknown.