RaysBot Review: Trading themed "click a button" app Ponzi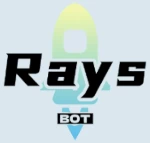 RaysBot fails to provide company ownership or executive information on its website.
RaysBot's website domain ("raysbot.com"), was privately registered through a Singapore registrar on August 27th, 2022.
If we look at the source-code of RaysBot's website, we can see it is localized to Chinese:

In an attempt to appear legitimate, RaysBot provides incorporation certificates for various shell companies in Singapore, Australia, Canada, the US and the UK.
Due to the ease with which scammers are able to incorporate shell companies with bogus details, for the purpose of MLM due-diligence these certificates are meaningless.
As always, if an MLM company is not openly upfront about who is running or owns it, think long and hard about joining and/or handing over any money.
RaysBot's Products
RaysBot has no retailable products or services.
Affiliates are only able to market RaysBot affiliate membership itself.
RaysBot's Compensation Plan
RaysBot affiliates invest tether on the promise of advertised returns:
2 Hours RayBot – invest 10 USDT or more and receive 0.25% every 2 hours
3 Days RayBot – invest 50 USDT or more and receive 3% a day for 3 days
7 Days RayBot – invest 300 USDT or more and receive 3.1% a day for 7 days
15 Days RayBot – invest 700 USDT or more and receive 3.3% a day for 15 days
30 Days RayBot – invest 3000 USDT or more and receive 3.6% a day for 30 days
RaysBot pays referral commissions on daily returns paid down three levels of recruitment (unilevel):

level 1 (personally recruited affiliates) – 15%
level 2 – 10%
level 3 – 5%
Joining RaysBot
RaysBot affiliate membership is free.
Full participation in the attached income opportunity requires a minimum 10 USDT investment.
RaysBot Conclusion
RaysBot is yet another "click a button" app Ponzi scheme.
RaysBot represents it generates external revenue via "a huge liquidity pool".
This liquidity pool is made up of invested funds, which RaysBot recycles to pay withdrawal requests.
In other words, RaysBot is your classic Ponzi scheme.
At the lowest investment tier, RaysBot affiliates are required to "click a button" to qualify for returns every 2 hours.
The 2 hour RaysBot is a manual transaction. A transaction is made very 2 hours.

Profit and principal are received after the trade is closed. Profit per trade is 0.25%. You can trade 12 times a day.
RaysBot represents clicking a button is tied to trading activity.
It isn't. All RaysBot are doing is recycling invested funds to pay returns.
RaysBot is part of a group of "click a button" app Ponzis that have emerged since late 2021.
Including RaysBot, BehindMLM has thus far documented forty "click a button" app Ponzis. Most of them last a few weeks to a few months before collapsing.
The same group of Chinese scammers are believed to be behind the "click a button" app Ponzi plague.