eBayShop "click a button" Ponzi collapses, Fiji hit hard

The collapse of the eBayShop "click a button" app Ponzi has hit Fiji hard, prompting an official government response.
eBayShop was a typical "ecommerce" ruse click a button app Ponzi. Gullible investors were led to believe "clicking a button" in an app corresponded with eBay orders.
These fictional orders purportedly generated revenue, which eBayShop shared with investors.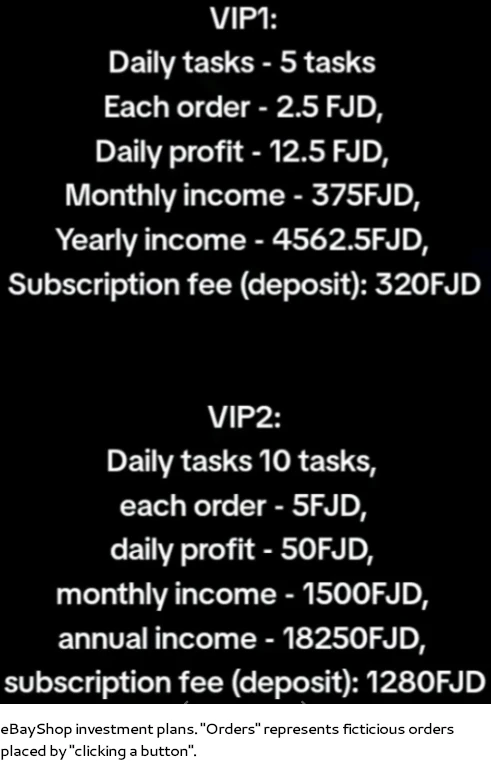 Of course there were no orders, and there are plenty of other "click a button" app Ponzis that have used the same ruse; e,g, WishM, FFST Group and DFMall.
In the wake of eBayShop's collapse, the Fiji government confirmed an ongoing investigation into the Ponzi scheme.
The Ministry of Trade, Co-operatives, Small and Medium Enterprises and Communications (Ministry) is issuing an urgent advisory to the people of Fiji regarding the increasing prevalence of fraudulent schemes in Fiji. Particularly alarming are the ongoing scams perpetrated by the notorious EbayShop Online Recruitment scheme.

In response to these threats, the Ministry has taken proactive steps to safeguard Fijians' financial wellbeing and security. As part of our commitment to tackling such fraudulent activities, especially those utilising online platforms, we have established a Multi-Interagency Taskforce (Taskforce).

The Taskforce is chaired by the Permanent Secretary for Trade, Co-operatives, Small and Medium Enterprises and Communications, which comprises the following agencies: Fijian Competition and Consumer Commission (FCCC); Consumer Council of Fiji (Council); Reserve Bank of Fiji (RBF) and Fiji Police Force (FPF).

FCCC CEO Mr Joel Abraham mentioned that investigations into EbayShop had started a few months ago.
Unfortunately for Fijians "click a button" app Ponzis are run by Chinese scammers hiding in Asia. It is unlikely any Fijian investigation will lead to arrests abroad.
What Fijian authorities can do is go after local promoters who spread eBayShop across Fiji. Whether anyone is held accountable remains to be seen.