"Click a button" app Ponzi scammers arrested in India

Indian authorities have made arrests in relation to two "click a button" app Ponzi schemes.
18Football was a classic football betting themed "click a button" app Ponzi.

18Football investors, mostly from India, logged in daily to click a button. 18Football represented clicking buttons within its app corresponded to placing bets on the outcome of football matches.
Launched in mid 2022, 18Football collapsed in August 2022.
Enough police were filed to trigger an investigation which, as reported by The Straits Times, has led to several arrests.
Five Indians, including the director of one of the shell companies, have been arrested, and six billion rupees have been traced in the football scam, which originated in Dubai and Hong Kong.
"Click a button" Ponzi schemes are run by Chinese scammers, which explains ties to Hong Kong.
The connection to Dubai appears to be through Indian promoters like Mohammad Saif hiding there.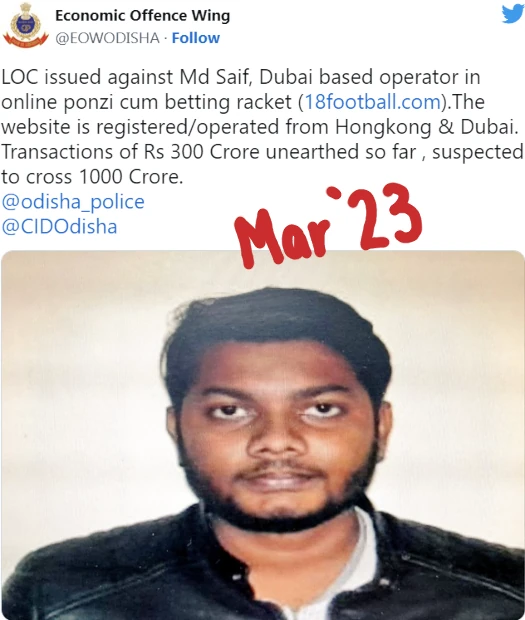 Dubai is the MLM crime capital of the world. That "click a button" app Ponzi recruitment is being coordinated from there isn't surprising.
An investor in a second unnamed "click a button" Ponzi app filed a complaint when it collapsed.
This time the "click a button" Ponzi ruse was generating orders with popular ecommerce companies.
Mr Singh (not his real name) said he found nothing strange about the scheme and bought jewellery, apparel and shoes.

The 51-year-old initially managed to withdraw 2,000 rupees in his e-wallet but ended up losing 800,000 rupees over two weeks.

"I realised my money is lost. I feel bad for myself that an educated person like me got sucked into this," he said.

After Mr Singh made a police report, three people, including agents who convinced people to invest, were arrested.
Indian investigations into "click a button" app Ponzis provide insight into how funds are laundered offshore.
Investigators at the Odisha Police's Economic Offence Wing found the scammers had worked through an intricate web of shell companies and real bank accounts "borrowed" from people who were willing to lend their accounts for a fee of 10,000 to 15,000 rupees.

The scammers would move the money through the shell companies and bank accounts before converting it into cryptocurrency to move it out of the country.
In addition to 18Football and the second unnamed Ponzi;
Police have found that another half a dozen Ponzi scams currently under investigation follow a similar pattern.
BehindMLM has been tracking "click a button" app Ponzis since late 2021. To date we've reviewed and reported on fifty-one of the scams.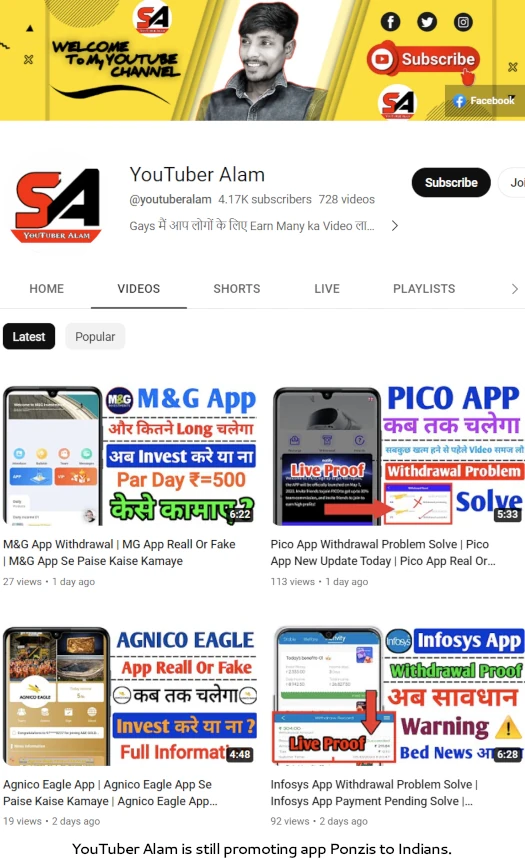 Despite my efforts to keep up with the low-effort scams, many still slip through the cracks.
This type of Ponzi model is particularly effective in third-world countries where
mobile phones represent primary points of access to the internet; and
authorities are ill-equipped to deal with cryptocurrency related offshore organized crime
18Football alone lasted a few months but scammed Indian investors out of at least $121 million. Total "click a button" app Ponzi losses are likely to run well into the billions.
Outside of India, the Philippines and Uganda are the only countries to have issued "click a button" app Ponzi fraud warnings.