BusinessToolsProfits Review: MLM pitfalls? SOLVED!

Presented as "fact" but with no statistical data or research provided whatsoever to back any of their claims up, BusinessToolsProfits allege that
FACT: – Research has shown that the Average Networker will take about 2-3 Months to learn and fully understand a new Program and be able to sponsor others.

FACT: – Research shows that the Average Networker can ONLY Sponsor about 3-4 Downlines in their entire Life Time.

Here at BTP We have solved ALL the Pitfalls of MLM!
Noticeably, these "pitfalls of MLM" that BusinessToolsProfits have identified revolve around recruitment, rather than actual product sales to customers.
Is this indicative of the focus behind the BusinessToolsProfits MLM income opportunity? Read on for a full review.
The Company
There is no information on the BusinessToolsProfits website indicating who owns or runs the business.
The company website ('businesstoolsprofits.com') was registered on the 27th of August 2012, however the domain registration information is set to private.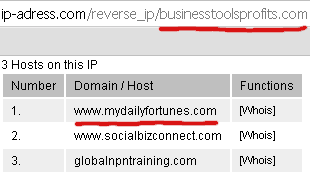 The BusinessToolsProfits website is hosted on what appears to be a private web server and also hosted on this webserver is the domain 'mydailyfortunes.com'.
From what I've been able to gather, MyDailyFortunes was a now defunct MLM opportunity launched around late 2010.
The domain registration information for MyDailyFortunes names a 'Kimathi Kamundeh' from 'Global Internet Fortunes' operating out of Nairobi in Kenya.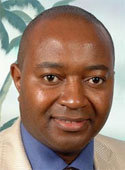 Given that the domain mydailyfortunes.com now redirects to businesstoolsprofits.com, there's a good chance that Kamundeh (photo right) is the admin of the BusinessToolsProfits opportunity.
A quick visit to Kamundeh's Facebook page confirms this. In his Facebook profile, Kamundeh states he is the 'CEO & Founder of "Internet Marketing Africa", goes online by the name of "Lloyd Kim" and openly advertises BusinessToolsProfits, claiming in order to earn money with the opportunity that "no selling (of) products" is required.
Up until recently, Kamundeh ran a blog using the name Lloyd Kim over at lloydkim.com, sometime in the last month the blog was pulled offline but Google's history cache indicates it was used to market a series of shortlived recruitment scams.
Apart from MyDailyFortunes, I'm unaware of any other MLM company Kamundeh has been admin of.
The BusinessToolsProfits Product Line
There are no retailable products or services available within the BusinessToolsProfits business opportunity. Instead, BusinessToolsProfits affiliates are only able to market membership to the company itself.
Bundled with each company membership are lead capture page templates, an autoresponder, training videos and access to an e-book library.
The BusinessToolsProfits Compensation Plan
The BusinessToolsProfits compensaton plan revolves around the sale of company membership. For each membership sold BusinessToolsProfits pays out members $7.
Residual commissions in BusinessToolsProfits are paid out using a 3×7 matrix. A 3×7 matrix places an affiliate at the top with 3 legs branching out underneath them (level 1).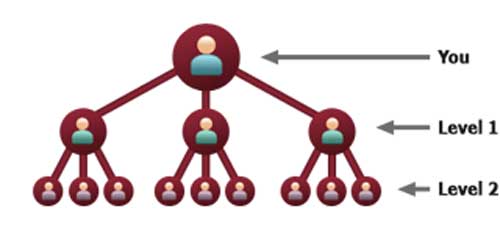 In turn, these three positions branch out into another three each and so on and so forth down 7 levels for a total of 3,279 member positions.
Commissions are paid out on the recruitment of new members into an affiliate's matrix (either via direct recruitment or the recruiting efforts of an affiliate's downline and upline), with how much of a commission paid out being dependent of what level a new member is placed on in an affiliate's matrix:
Levels 1 to 6 = $3 per new member
Level 7 = $10 per new member
Note that these commissions are paid out every four months, as membership fees are due every 4 months.
Joining BusinessToolsProfits
Membership to BusinessToolsProfits is $40, payable every four months.
Conclusion
With no products being sold to customers, company membership being the only thing marketable by members and 100% of commissions being paid out membership fees,
All BTP Membership FEES are final. There are no refunds at ALL.

Immediately (after) you pay your membership fee, the BTP system automatically pays out commissions instantly to all your uplines.

We cannot issue a refund because your FEES is (sic) used to pay commissions instantly to your uplines.
BusinessToolsProfits quite obviously fits the definition of a pyramid scheme.
The BusinessToolsProfits income opportunity is dependent on the constant recruitment of new members to ensure those at the bottom of the pyramid get paid, and paying of membership fees every four months to ensure those already in the business get paid.
Without constant recruitment those at the bottom of the pyramid won't earn anything and they will stop paying their four month membership fee. When this happens those above them won't earn anything and the pyramid implodes from within, leaving those who joined last out of pocket.