Beget Review: Affiliate network style daily deals

Traditionally a daily deals website offers a variety of deals to a large number of users. Over time this has become extremely localised as businesses demand more for their advertising dollar, with daily deal sites having to provide extremely targeted solutions to the businesses that use their platforms.
Some of these daily deals websites have tried to attach the model to a MLM compensation plan structure with most of them using the MLM business model to increase membership (recruitment commissions), rather than focus on the core of  what makes a daily deals website succesful. That is,  use of the featured deals themselves by members who aren't interested or attached to the income opportunity.
Entering the market with a somewhat different approach of utilising the daily deals niche like an affiliate network comes Beget. Read on for a full review.
The Company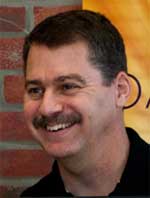 Headed up by President Mike Reynolds (photo right), Vice-President of Global Field Operations Mike Magolnick and Vice-President of Corporate Sales Art Molinares, Beget originally launched in the first half of 2011.
Apart from his Beget committments, Mike Reynolds is currently also listed as Executive Vice-President of Market Development and Strategy over at Parago.
Parago is the innovative provider of rewards-based incentive solutions that deploy technology to drive better results. Parago provides a full range of consumer, sales, channel and employee incentive programs
It is unclear whether there is any relationship between Parago and Beget or either of the two executive positions Reynolds currently holds.
In its first incarnation Beget doesn't appear to have been a MLM company. Rather, Beget described itself as a company that
offers free deals and other giveaways through flash contests on Facebook, Twitter and with some of our favorite Dallas bloggers.
Most likely due to the massive competition the stock standard daily deals niche encompasses, Beget appear to have gone back to the drawing board sometime in late 2011 and have decided to relaunch on a MLM platform and slightly tweaked daily deals business model.
The Beget Product Line
The line about Beget's 'favourite Dallas bloggers' from the company's own description of itself above is important as it would appear this is the keystone of Beget's product offering going forward.
The basic idea with Beget is that when you sign up to the company you are given two things:
a branded Beget "blog" of your own to publish affiliate deals on and
access to Beget's daily deal offers, which are managed like an affiliate network offer database
For those of you not familiar with how a traditional affiliate network is run, affiliates join a network (usually for free) and then are given access to the network's affiliate offers which they can then promote.
Promotion typically involves websites, email lists, social networks etc. The aim of promoting these offers is to facilitate the sale of a service or product and when this happens the affiliate gets paid.
In much the same manner Beget members can pick and choose offers from Beget's own network and promote them on their company-supplied website.
An example of a Beget affiliate promotion website can be seen here.
The Beget Compensation Plan
Beget's compensation plan can essentially be broken down into two components, the MLM side of things and the daily deals commissions.
As of yet Beget haven't publicly released information on the MLM side of their compensation plan, other than stating that
the multi-level compensation plan rewards our Agents numerous ways for their diligence in building a personal Beget business.
One of the largest pitfalls thus far I've seen in the daily deals MLM niche has been a detachment from the commissions offered via the compensation plan, and the daily deals side of the business.
Equating lots of members to success, typically the compensation plans of daily deal MLM companies tend to focus too much on rewarding existing members for signing up new members.
Beget do mention that
with our business model, you can also help other people earn income by setting up their own BegetByMe sites
which I have to admit does sound pretty recruitment orientated, but until they release anything concrete for me to go over I obviously can't be sure.
On the daily deal side of things, again Beget haven't released anything specific but they have confirmed that members will be paid on any succesful sales they get via promotion of deals on their website and that participation in the MLM compensation plan side of the business is optional.
Joining Beget
Joining Beget is a one time application fee of $69.95 with a monthly membership fee of $14.95.
There is mention of a 'Beget Manager Back Office System' but Beget are offering this service 'at no charge until February 2012' and provide no specifics of any additional cost thereafter.
From the sounds of it though membership is $14.95 a month and backoffice access with be an additional charge.
Conclusion
There's an old saying in affiliate marketing that 'the money is in the list'. The list they refer to is an email list an affiliate marketer builds over time as it's widely accepted that if you've got a large enough list, you can market anything and net a profit.
With Beget they take this idea and attach it daily deals and MLM, but the core idea remains the same – without some sort of list (or traffic) there are no sales and without any sales there is no income.
Being able to break down Beget's deals by locality will no doubt help but in the early stages of the opportunity members are pretty much at the mercy of the offers Beget are able to secure for their members.
Operating on a local platform, Beget do suggest that if your "customers" ask you for a discount on a particular product or service to get back to them and they'll see what they can do, but without the buying power or membership numbers o the big players in the daily deals niche I don't know how effective their deal securing department will be.
I kind of get the impression that Beget is most likely going to be marketed at those who don't already have an affiliate list to market products to. And in that sense I don't think the platform will be all that effective unless that list is built and an audience for the offers published on a Beget member's website is grown.
One would hope that the company strongly focus on training and educating their members on this particular aspect of affiliate marketing as ultimately that's what success of Beget and its members hinges upon.
For those already with a large list, I'd imagine they already have their own marketing channels in place and I don't see them really flocking to the Beget platform. Why share your profits with an additional third-party if you're already making it on your own?
Going over the business model and service Beget are offering the above is my initial assessment. Pending the release of the full compensation plan and commissions structure of the daily deals I'll obviously have to rewrite the certain areas of this review.
For now though hopefully the above paints a detailed enough picture of what people can expect from the Beget business opportunity.