Alphay International Review: Chinese MLM enters US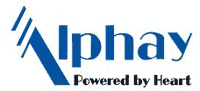 Having banned MLM in China back in 1998 because the government believed 'it was often used as a cover for evil cults, secret societies and lawless and superstitious activities', China legalised the industry only six years ago now – back in 2006.
Despite the time that has passed, the industry in China is still heavily regulated and only a handful of companies are represented, with a mixture of US-based companies and Chinese upstarts.
Today we're going to look at one of the Chinese MLM companies that have made the list and have their roots in manufacturing Chinese traditional medicine components all the way back since 2002.
Read on for a full review of the Alphay International business opportunity.
The Company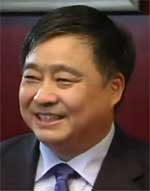 Alphay International was founded in October 2002 by Chairman Hui Chen (photo right). Alphay International are based in China under the official name of 'Jiangsu Anhui Biological Technology Co., Ltd.' and claims to be one of
only 27-companies (that) have a legitimate network marketing license (in China).

(Furthermore) while the majority must partner with the Chinese government, Alphay has a privately owned license.
I'm not quite sure what Jiangsu Anhui Biological Technology did prior to getting their license in China back in 2008 (export mushrooms?), but since then the company has began expanding their MLM division globally under the name Alphay International.
Alphay International's Product Line
Somewhat of an eclectic product offering, Alphay International retail nutritional supplements, herbal tea, shoe soles and bedsheet sets.
Nutritional Supplements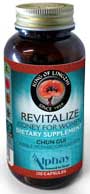 Alphay International claim their nutrient supplements
combine the best of the best mushroom and herbal formulations from the oldest medical system in the world.

Our master herbologists and mycologists have selected the highest quality herbs that are clinically recognized as the most beneficial plant ingredients to address the most demanding needs of modern society: stress, aging, fatigue and compromised immune systems.
Here are the supplements Alphay International retail, along with their retail price:
general gender based nutrient supplements – $86
heart health supplement – $86
digestive supplement – $86
mind supplement – $86
lung supplement – $86
kidney supplement – $98
liver supplement – $86
Herbal Tea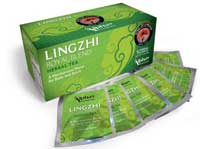 Alphay International's herbal tea offering is called 'Lingzhi Royal Blend Herbal Tea'. The company states their tea
contains delicious black tea from the inlands of China with all the sensible stimulation that contains.

It also features the ultimate antioxidant, free-radical fighting combination of Lingzhi (Reishi Mushrooms), plus Maitake, Shitake and Oyster mushrooms (and) the rare Agaricus Blazei mushroom extract.
Lingzhi Royal Blend Herbal Tea comes in a box of 30 tea bags and retails for $48.
Shoe Soles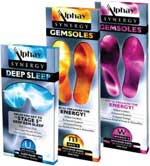 Alphay International retail both mens and womens shoe soles under the brand of 'GemSoles'. GemSoles
incorporate refined, ultra-modern technologies such as far-infrared and negative ion emitting tourmaline gemstones with the rejuvenating power of magnets that are based in solid physical science, with many of its products for use with discomfort in bones, joints and muscle tissue.
Both the mens and womens varieties retail for $83.
Included in this range is also a sleep mask Alphay International describe as
a tool to help you get to Level 5 — Deep REM Sleep, where all the rejuvenation takes place.
Alphay's 'Deep Sleep Mask' retails for $71.
Miss Ying Signature Collection
I've got no idea who Miss Ying is, but her 'signature collection' makes up Alphay International's bedding range.
Cutting edge technologies have allowed Alphay to create a material that is all-natural, eco-friendly and luxuriously silky.
The Miss Ying collection starts at $1,136 for a twin set and comes in at $1,498 for the 'Cal King' size.
Alphay International Membership Ranks
Within the Alphay International Compensation plan are 8 membership ranks which unlock different commissions within the plan.
In order to get promoted to a higher membership rank level, Alphay International members must meet certain qualification requirements. These requirements are subject to specific criteria related to
Personal Sales Volume (PSV) – The amount of sales volume you yourself generate
Group Sales Volume (GSV) – The amount of sales volume your unilevel organisation generates
new members recruited
Here are the 8 membership ranks along with their qualification requirements:
Dream Builder – 50 PSV and GSV and at least one member recruited
Dream Builder II – 80 PSV, 500 GSV (no more than 50% can come from any one unilevel leg) and at least 3 new members recruited
Director – 120 PSV, 2,000 GSV (no more than 50% can come from any one unilevel leg) and at least 4 new members recruited
President – 160 PSV, 7,000 GSV (no more than 50% can come from any one unilevel leg) and at least 5 new members recruited
Ambassador – 200 PSV, 22,000 GSV (no more than 40% can come from any one unilevel leg) and at least 6 new members recruited
Key Master – 240 PSV, 70,000 GSV (no more than 40% can come from any one unilevel leg) and at least 7 new members recruited
Regional Key Master – 280 PSV, 225,000 GSV (no more than 40% can come from any one unilevel leg) and at least 8 new members recruited
Global Key Master – 320 PSV, 500,000 GSV (no more than 40% can come from any one unilevel leg) and at least 9 new members recruited
The Alphay International Compensation Plan
The Alphay International compensation plan revolves around a unilevel commission  structure as well as a Fast Start Bonus, retail commissions (online and offline), and a matching bonus.
Here's a rundown of the various components of the Alphay International compensation plan.
Retail Sales
The sale of Alphay International's products will earn members a retail commission. The percentage of this commission is dependent on whether the retail sale was made in person (direct) or via a member's provided replicated Alphay International online store.
Direct sale retail commissions are paid out of the difference between the purchased (wholesale price) of Alphay International and the retail price the item was sold at (set by the member).
For online sales, goods are sold at the suggested retail price (fixed by Alphay International) and the retail commission paid out is the difference between the wholesale cost and the retail price (which is up to 25% of the retail cost, depending on the product bought).
Unilevel Commissions
At the heart of the Alphay International compensation plan are commissions that revolve around a unilevel compensation structure.

Using the example above, what this means is that every member you bring into the organisation, they are placed directly underneath you in a new leg. These members form your first level with any members they sponsor forming your second level and so on and so forth.
Traditionally a unilevel compensation structure is unlimited levels wide but Alphay International cap the width of their unilevel structure to 15 first level members (meaning it's 15 members wide on the first level).
Note that in the above example only three legs are shown branching off at each level but this in effect is fifteen.
Members are free to place new members on your first level or you have the option of placing them on different levels of your existing unilevel organisation.
In this sense it's not a true unilevel but more of a hybrid between a unilevel and a matrix.
Capped at fifteen levels wide, Alphay also cap the unilevel payout structure 10 levels deep and depending on what membership rank you have, pay out a monthly residual commission based on the sales volume of those in your unilevel organisation.
Dream Builder – 5% on levels 1 and 2
Dream Builder II – 5% on levels 1 to 4
Director – 5% on levels 1 to 4 and 4% on level 5
President – 5% on levels 1 to 4 and 4% on levels 5 and 6
Ambassador – 5% on levels 1 to 4 and 4% on levels 5 to 7
Key Master – 5% on levels 1 to 4 and 4% on levels 5 to 8
Regional Key Master – 5% on levels 1 to 4 and 4% on levels 5 to 9
Global Key Master – 5% on levels 1 to 4 and 4% on levels 5 to 10
Note that upon achieving Global Key Master, Alphay members get a 're-entry opportunity' which enables them to expand their existing unilevel organisation another fifteen levels wide or they can place their new business center elsewhere in the unilevel.
Commissions in this re-entry business centre are bound to the same commission payout structure as above.
Fast Start Bonus
The Fast Start Bonus is paid out on the sales made by Alpay International  members you've directly recruited into the company and members they themselves have recruited.
Alphay International's Fast Start Bonus pays three generations deep. 10% on your personally sponsored members and 10% on generations 2 and 3.
Additionally, each month 10% of the Fast Start Bonus is set aside and put into what is called the Chairman's Bonus Pool. Other than stating that the top Fast Start volume producers in each market will share in this pool however, Alphay International fail to mention any specific eligibility criteria or the payout structure of this bonus.
Matching Bonus
So long as an Alphay Internatonal member qualifies with 50 PSV per month, they are entitled to a payout from the Matching Bonus.
Alphay International's matching bonus is based on a member's unilevel commissions pays out 20% on direct recruits and 10% on their direct recruits (your level 1 and 2).
Joining Alphay International
For those looking to join Alphay International, there are eight membership options available.
The basic membership starts at $35 for Black Membership. Black Membership includes marketing materials, Chairman Chen: 5 Elements of Success Book and 12 months Website subscription.
From here the next priced membership is the 'Key Energy Pack (Queen)' which comes in at $1849 and includes various Alphay International products.
Starting at $1849 above, there are seven membership options ranging up to $2467 for the 'Alphay Key Pack (Cal King)'.
Progressively as the membership price increases, so do the products included in the membership packs.
Conclusion
Product wise I'm going to be honest and admit that I've got no idea about most of Alphay International's product range. I suppose broadly speaking it's fair to group them all under the umbrella of 'health and wellbeing', but at first glance it does appear to be a bit of a mish-mash.
That said, as to the effectiveness of the products – personally I wouldn't be shelling out close to $100 on a monthly supplement, shoe sole or sleep mask – but that's just me. Obviously someone is buying this stuff or Alphay International would have gone bankrupt a long time ago.
As for the bedding set… again, there must be some sort of demand for this kind of stuff as the company has been around for a while now. How big that demand is and how established it is though I've got no idea.
As far as marketing Alphay International goes this is what you'd want to establish and investigate before jumping in with the business.
The compensation plan on the surface appears to be solidly rooted in sales as it should be but deeper analysis does reveal some worrying points.
The first thing that stuck out to me is the huge difference between personal sales volume and group sales volume. Even at the highest membership level of Global Key Master, you're looking at 320 PV vs. a whopping 500,000 GSV.
Now obviously at this level you'd want to be pushing a lot more than just $320 a month in retail sales but even if we up that by 1000% to $3200, and assume that everyone on your team is pushing this amount of product a month – that's still 156 members directly under you.
Of course the recruiting and sales efforts of your team will put a dent in this but the Alphay International compensation plan still feels unevenly weighted on personal sales vs. team sales.
With such a low personal sales quota, there's no much incentive to drive more sales and instead it might be tempting to push your team to make up this volume.
Trouble is they all have a ridiculously low personal sales quota too… so company wide you might be looking at a bunch of distributors with no real reason to drive their monthly sales.
I'd imagine by pushing up the monthly personal sales volume per membership rank this could be fixed but as it stands… it's a bit problematic.
Especially when you consider that most of Alphay's products are under $100. I mean it's not like you're going to have people purchasing $1000+ bedsheets on monthly autoship now is it.
The second concern is the recruitment requirements built into the compensation plan. Starting with the second membership rank, already you're required to have no less than 3 members under you.
This in itself wouldn't be so bad if the unilevel commissions weren't so severely restricted to what membership level you are. Later on we're only talking one level but in the early days you're looking at 4 new members and $2000 in monthly group sales volume just to get paid out on levels 1-5 of your unilevel.
Not unachievable but considering the product range, in my mind a little steep.
That said, if you can find a market for this stuff then the balance of sales and recruitment is clear enough in the compensation plan. Let's face it, you're not hitting those group sales volume's yourself so regardless of how unnecessarily low the monthly personal quotas are, the succesful earners in this company are going to have to drive those retail sales and get their teams to do it as well.
A few slight changes to the compensation plan could fix these problems but until then, make the most of what you've got.
That's if you can afford the joining cost! And don't even think about getting in on the $35 option… nobody is buying any of this Chinese medicine type stuff of you if you yourself aren't using the products!