Did Roman Balanko lie to the Zeek Receiver?

In an effort to shirk responsibility for paying back over $13 million dollars transferred through it by Payza, PaymentWorld USA has asserted it has no control or anything to do with PaymentWorld Limited (a Hong Kong company) or PaymentWorld LTD SRL (a Moldovan company).
In the long-running saga, The Zeek Rewards Receiver has sued PaymentWorld as single entity, claiming CEO Roman Balanko 'and PaymentWorld US had access to and control over the information and funds at issue'.
In response to the contempt proceedings, filed by PaymentWorld USA and supported by three declarations by CEO Roman Balanko, the company claims
the Receiver completely ignores the fact that Mr. Balanko controlled only PW-USA, and PW-USA did not have a contractual relationship of any kind with Victoriabank.

The receiver assumes that because PW-USA operated the payment gateway through which the merchant transactions were processed, that it must necessarily have also controlled the flow of those funds in and out of Victoriabank.

Nothing could be further from the truth, and to agree with such an assertion is to completely ignore the operational and corporate distinctions between PW-USA, PW-HK (Hong Kong) and PW-SRL (Moldova), as well as the entirely different functions that various entities in the credit card processing industry perform.
The distinction between PW-USA, PW-HK and PW-SRL is the primary basis for PW-USA's claim its role 'in the processing arrangement by which Payza's funds were transferred was specific and limited, and PW-USA was never in control over the actual transfer of funds in or out of any bank'.
Strangely enough, a document provided to BehindMLM directly contradicts PaymentWorld USA's claims and suggests otherwise.
As per PaymentWorld USA's June 14th filing;
PW-USA is a Californian member-managed limited liability company that was formed on April 27, 2010.

PW-USA is owned and controlled 50-50 by Roman Balanko and Faina Rozen. It has no unity of ownership or control with PW-SRL or PW-HK.

PW-HK was formed by Alexander Korkin, a Russian citizen and Moscovite.

PW-SRL is believed to have been formed by Vyacheslav Platon, a Moldovan resident and former majority shareholder of Victoriabank.
According to PaymentWorld USA, the roles the three PaymentWorld entities played in processing Zeek Rewards funds from Payza are as follows:
At no point in time does PW-USA either act as the bank, or control the movement of funds in or out of the bank. Instead, PW-USA works with the bank and the merchant, assisting the bank with risk monitoring and providing a monthly statement to the merchant.

PW-USA also staffs customer service desks to handle merchant inquiries and give the merchants ongoing technical support.

For these services PW-USA receives a fee from the bank on a monthly basis.

On or about November 18, 2010 PW-HK contracted with PW-USA to provide processing services to PW-HK for its international clients.

PW-USA and PW-HK operated as two distinct, independent entities without any authority to act on behalf of or control the other.

On or about December 2, 2011 PW-HK contracted with PW-SRL to provide
processing services to PW-SRL's international merchants.

PW-SRL delegated the actual task of transmitting the funds to PW-HK, who used funds transferred from PW-SRL's account at VictoriaBank to its account at Tusar Bank in Russia to settle or send the money out to the merchants.
To put that into the context of Zeek Rewards, investor funds were sent by Rex Venture Group to Payza.
Payza sent the funds to PW-SRL's (Moldova) bank account(s) with VictoriaBank with PW-USA (PaymentWorld USA) overseeing the transactions.
PW-HK (Hong Kong) was given permission to control PW-SRL's account(s) at VictoriaBank, and transferred Zeek funds to an account with Tusar Bank in Russia.
PW-HK's bank account with Tusar Bank is the last known whereabouts of the $13.1 million dollars in stolen Ponzi funds Zeek Rewards processed through Payza.
PW-USA is not now, and never has been, an IPSP, and does not hold or transfer funds to merchants and at no time did PW-USA have a contractual relationship with either Victoriabank or Tusar Bank. PW-USA only contracted with PW-HK, who in turn contracted with PW-SRL, who in turn contracted with Victoriabank.
The above is PaymentWorld USA's own words from their filing, which again is supported by three separate declarations from CEO Roman Balanko.
Directly contradicting PaymentWorld USA's filing and Balanko's declarations, is an Agency Agreement between Payment World Limited (PW-HK) and a Russian agent.

Did you catch who the named President of PaymentWorld Limited (PW-HK) is?
For a $2500 fee, the Russian Agent Agreement stipulates the agent will
-represent the Payment World Limited with respect to formation (establishment) of commercial organizations to be registered in the Russian Federation, United Kingdom and other jurisdictions and setting up in Moscow of representative offices of commercial organizations;

-supervise the process of opening by such commercial organizations of accounts at credit institutions, including banks;

-perform other legal and factual actions as instructed by Payment World Limited.
The agent information has been redacted from the copy of the agreement in BehindMLM's possession.
At the end of the agent agreement Roman Balanko, in his capacity as President, signs off on behalf of PaymentWorld Limited (PW-HK):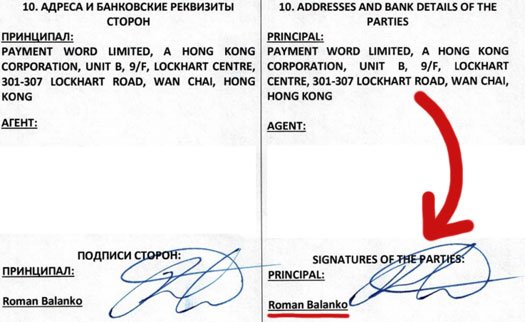 If we go back to how PamentWorld USA and Balanko described the flow of funds from Payza to Payment World Limited's Russian bank account(s), Balanko, as President of Payment World Limited (PW-HK), has/had direct control of the $13.1 million dollars the Receiver is trying to get back.
It also means Balanko openly lied in a US court filing as well as numerous supporting declarations.
Pending any accomplices being named, it is increasingly looking like Roman Balenko has made off with $13.1 million dollars of stolen Zeek Rewards funds.
To what extent the Zeek Receivership is aware of Balenko's apparent control of PaymentWorld Limited and his likely possession of the missing $13.1 million dollars is unclear.
As per the Payza contempt proceedings case docket, the Zeek Receiver has been given until the August 3rd to file a reply to PaymentWorld USA's June 16th response filing.