WorldOTC collapses, pulls "regulators!" exit-scam

The WorldOTC "click a button" app Ponzi has collapsed.
WorldOTC withdrawals have been disabled, and an a "regulators!" exit-scam has been deployed.
WorldOTC's collapse was preceded by a "free money" promotion that ran for three days:
On or around August 25th WorldOTC disabled withdrawals.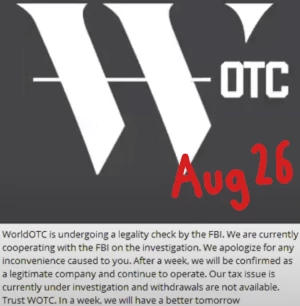 On August 27th WorldOTC trotted out its exit-scam ruse:
WorldOTC is undergoing a legality check by the FBI. We are currently cooperating with the FBI on the investigation.

We apologize for any inconvenience caused to you.

After a week, we will be confirmed as a legitimate company and continue to operate.

Our tax issue is under investigation andn withdrawals are not available.

Trust WOTC. In a week, we will have a better tomorrow.
This is of course all nonsense. The FBI don't conduct "legality checks". Not withstanding actual regulatory investigations, be they tax related or otherwise, take a hell of a lot longer than a week to carry out.
Today marks seven days since WorldOTC collapsed. There have been no further updates.
While the total number of WorldOTC victims is unknown, SimilarWeb ranks top sources of traffic to WorldOTC's website as Vietnam (38%) and Spain (31%).
How much WorldOTC investors collectively lost is unclear.
WorldOTC is a "click a button" app Ponzi. The scams began in late 2021, with dozens of rebrandings launched since.
While "click a button" app Ponzis are often localized to target specific populations, Chinese scammers are believed to be behind the vast majority of them.