FocuStar "click a button" Ponzi collapses, BLQ Football next?

The FocuStar "click a button" app Ponzi has collapsed.
As of roughly 48 hours ago, both of FocuStar's website domains have been disabled.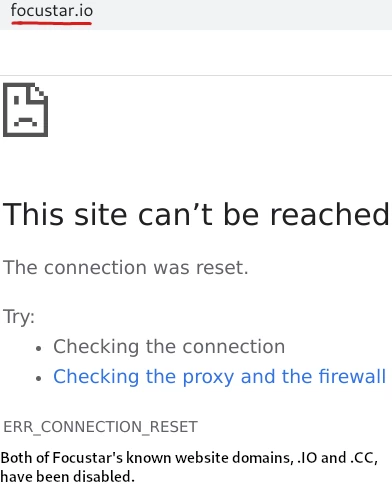 FocuStar's official YouTube channel is still up but comments are disabled.
FocuStar's websites being pulled was preceded by reports of withdrawal issues.
As BehindMLM understands it, FocuStar started demanding affiliates recruit new investors. Regardless of how many new victims an affiliate had recruited, their withdrawal requests were then denied anyway.
In what is a common trend with MLM crypto Ponzis, FocuStar also ran investment promotions over the past few weeks.
These promotions see investors promised bonus credit on invested funds.
FocuStar is part of a large group of "click a button" app Ponzis that emerged in late 2021.
Launched with various ruses to lure investors in, most of the scams run a few weeks to a few months before collapsing.
Like any Ponzi scheme, how long a "click a button" Ponzi lasts is determined by how well it catches on in targeted regions.
FocuStar primarily targeted Venezuela, Spain, Germany, India, Mexico and Greece.
Most, if not all, of the "click a button" Ponzi schemes are believed to be run by Chinese scammers.
As losses mount and consumer awareness of "click a button" Ponzis grows, thankfully the plague of "click a button" Ponzis has slowed. That said, there are still a few around (and no doubt more will be launched to beat a dead horse).
The biggest "click a button" app Ponzi I'm currently aware of is BLQ Football.
BLQ Football originally targeted Uganda. But while recruitment in Uganda is still rife, I think somebody at BLQ Football messed up.
BLQ Football was supposed to pillage Uganda for a few months and collapse. To that end BLQ Football recruitment in Uganda declined significantly between July and August.
In its place however, recruitment of BLQ Football investors has exploded across China.
The one thing "click a button" Ponzi scammers haven't done is target China. Being south-east China based (it's unlikely the scammers themselves are operating from mainland China), targeting Chinese consumers is a dangerous game.
Like other crime haven jurisdictions, Chinese authorities will readily turn a blind eye to overseas fraud. When local complaints start flooding in though, things get dangerous.
Whatever happens and how ever long BLQ Football ultimately lasts for, what we do know is, like FocuStar, the majority of investors lose money and victim recovery is non-existent.