Ant Ranch "click a button" app Ponzi collapses

The Ant Ranch "click a button" app Ponzi scheme has collapsed.
Earlier today the scam disabled its website and began feeding investors excuses.
In the lead up to Ant Ranch's collapse, new investors were lured in on the promise of a "10% discount".

After it disabled its app and website, Ant Ranch sent out a vague exit-scam message:
Due to the huge number of Ant Ranch users. We want to ensure the safety of the funds of every Ant Ranch user.

Our Ant Ranch technical department needs to handle every detail more carefully. So it takes longer. So, please be patient. Once completed, we will notify you.
This then evolved into an an unscheduled "system upgrade" exit-scam.
Dear Rancher

Since IOS system compatibility takes time, the system upgrade of Ant Ranch is expected to be completed before 10:00 am South Africa time tomorrow.

If you did not click "Feed" the animal rancher today due to system upgrade, after the maintenance upgrade is completed tomorrow, contact me to compensate you for one day's income.

We apologize for the inconvenience caused to you!
This message appears to be a joke aimed at Ant Ranch investors who circulated the update without reading it. The third paragraph leaves whoever circulates the update on the hook for victim losses.
In August 2023 SimilarWeb tracked just over 200,000 visits to Ant Ranch's website. 97.3% of this traffic originated out of South Africa.
In the lead up to Ant Ranch's collapse, ringleaders held a marketing event in Gauteng, South Africa over September 23rd and 24th.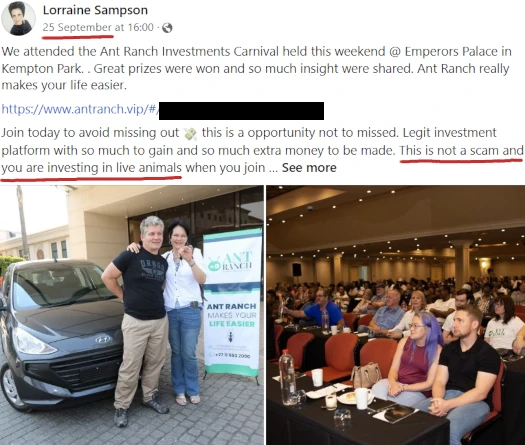 One ringleader in attendance, Lorraine Sampson, reassured investors Ant Ranch "is not a scam".
There is a chance Ant Ranch briefly returns tomorrow at 10am South African time. Investors have been told there will be a 25% discount on investment packages, starting October 3rd.

This could see Ant Ranch return for a final milking of investors, before shutting down again – this time for good.
Ant Ranch is part of a series of "click a button" app Ponzis run by Chinese scammers.
To date BehindMLM has reviewed almost a hundred of the scams, all of which follows the same basic "click a button" Ponzi template.
Update 6th October 2023 – Ant Ranch has geo-blocked access to its Ponzi scheme from anywhere except South Africa.
Update 12th October 2023 – After geo-blocking access except to South Africa, Ant Ranch did indeed return for a last round of plundering South Africans.
Ant Ranch's second round of plundering came to an end on October 11th, wherein the Ponzi scheme collapsed again.